By: Vaibhav Borude, Research Analyst, GSDN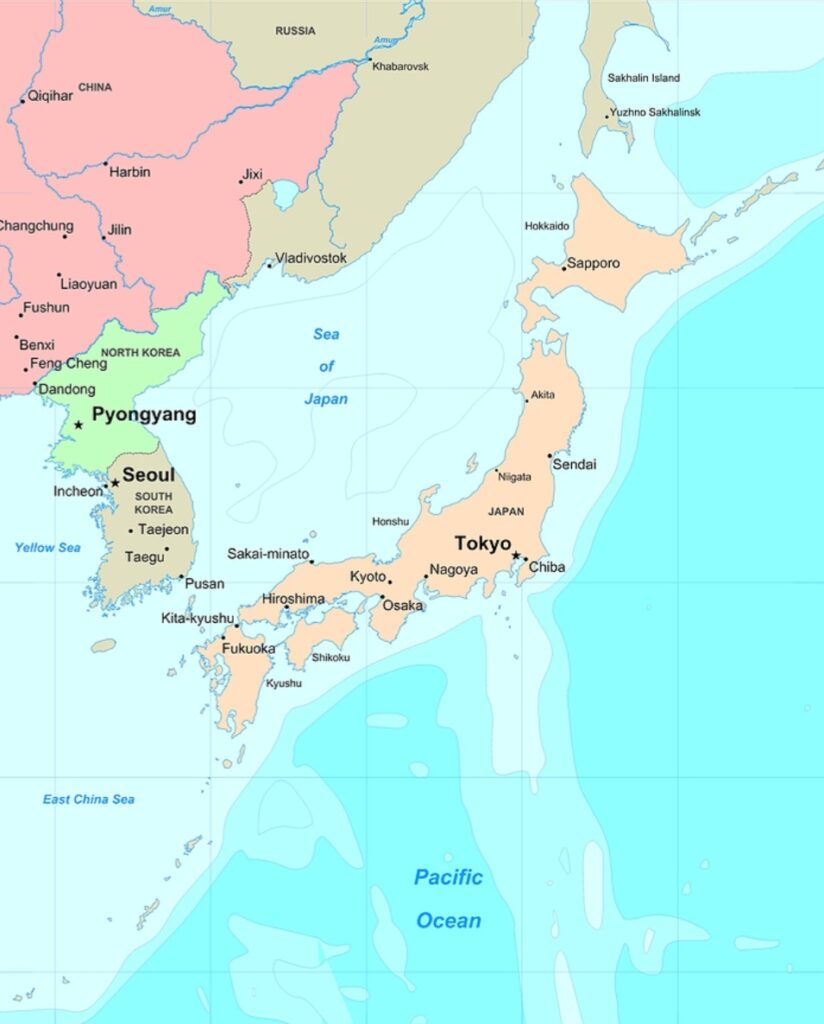 Japan and South Korea established diplomatic relations in December 1965 under the Treaty on Basic Relations between Japan and the Republic of Korea. In this treaty, Japan recognized South Korea as the only legitimate government on the Korean Peninsula. Both of these countries are in close proximity to each other and are major non-NATO allies of the USA; however, the colonial history of Japanese occupation and the turbulent political ties still haunt their relationship.
History of South Korea-Japan relations
Between 1961 and 1979, South Korea's head of state was dictator Park Chung-hee, who had served in the Imperial Japanese military during World War II.Park took a strong interest in Japanese modernization since he witnessed development policies in Manchukuo firsthand. Under Park's government, the two countries pursued the 1965 reconciliation treaty, which normalized relations despite considerable public opposition. Park was able to force normalization through the National Assembly and shut down demonstrations through martial law.
As a result, Tokyo provided US$ 300 million as compensation to comfort women, forced laborers, and other victims and extended an additional US$ 200 million credit to Seoul. Prime Minister Sato attended official functions in July, the first visit of a Japanese premier to postwar Korea. Nevertheless, Seoul objected strongly to occasional visits by Japanese politicians to North Korea, to the continuation of Red Cross repatriation of Korean residents in Japan to North Korea, and to the proposal of Tokyo Governor Minobe to permit a pro-North Korean university in Tokyo. The Japanese Foreign Ministry opposed Minobe on this issue in order to prove its loyalty to South Korea. Meanwhile, contacts between Japan and South Korea increased through new air routes, tourism, and trade.
In 1975, South Korean-Japanese relations improved following the end of a two-year-old feud that began when South Korean agents abducted Kim Dae-jung, an opposition leader (and future President of South Korea), from a Tokyo hotel. As a result of the settlement, a long-delayed ministerial conference was held in Seoul in September to discuss economic cooperation between the two countries. Japan joined the United States in providing assurances for South Korea's security. In a joint statement by Japanese Prime Minister Takeo Miki and U.S. President Ford, they declared: "The security of the Republic of Korea is necessary for peace and security in East Asia, including Japan."
Thaws in Relationships
Sea of Japan naming dispute: Japan claims that the Sea of Japan name has been used by western countries since 1860, i.e., before Japan's colonialism. South Korea claims that the name of the water body is "East Sea", and it has been used in South Korea for 2000 years.
The Liancourt Rocks, called Dokdo ("solitary island") in Korean and Takeshima ("bamboo island") in Japanese, are a group of islets in the Sea of Japan that are occupied by South Korea. There are valuable fishing grounds around the islets and potentially large reserves of methane hydrates. The territorial dispute is a major source of nationalist tensions between the two nations. Currently, South Korea occupies the island, which has its Korean Coast Guard stationed there as well as two elderly Korean residents.
Comfort Women's For Japanese Military: Korea has been demanding official acknowledgement with a sincere apology and compensation for the sex slaves or comfort women issue, referring to the women and girls who were forced to have sex with Imperial Japanese military soldiers during World War II.
Forced labor of Koreans during World War II
Discharge of radioactive water from the Fukuchima Daichi nuclear power plant.
Present status and Road ahead
The bilateral trade between South Korea and Japan in 2022 was US$ 85 billion, with South Korea's export to Japan being US$ 30.6 billion and its import from Japan being US$ 54.7 billion.
The high-level bilateral visit shows the warmth of relations between both countries. The corresponding figure below shows a lack of mutual relations between both of them due to a number of issues, including domestic compulsions.
High-level bilateral visits between Japan and the ROK
| | | | | |
| --- | --- | --- | --- | --- |
| Timeline | Number of visits by the ROK's President to Japan | Number of visits by Japan's Prime Minister to the ROK | Number of visits by the ROK's Foreign Ministers to Japan | Number of visits by Japan's Foreign Minister to the ROK |
| 2003-2008 | 5 | 6 | 7 | 4 |
| 2008-2013 | 3 | 5 | 5 | 5 |
| 2013-2018 | 0 | 0 | 4 | 3 |
| 2018-2023 | 1 | 0 | 1 | 0 |
The recent summit in March 2023 marked the first meeting between the two nations' leaders in 12 years and was focused on addressing the shared threat posed by North Korea and growing concerns over China. Post-summit, Japanese Prime Minister Fumio Kishida emphasized opening a new chapter in their bilateral relationship with frequent visits by leaders from both countries that are not bound by formalities. Kishida added that Japan and South Korea have sought to resume bilateral security talks against the backdrop of rising threats from North Korea and have concluded the significance of a "Free and Open Indo-Pacific" (FOIP).
Meanwhile, South Korean President Yoon Suk Yeol expressed his willingness to fully restore the military intelligence-sharing agreement with Japan, which was terminated in 2019 due to an ongoing disagreement regarding forced labor. He added that sharing information regarding North Korea's nuclear missile launches and trajectories is necessary and that both countries should be capable of responding to them appropriately. Moreover, prior to the summit, Seoul and Tokyo resolved a protracted trade disagreement, with Japan agreeing to remove export controls on advanced materials employed in the manufacturing of semiconductors and display panels to South Korea, while Seoul agreed to withdraw its complaint concerning the limitations at the World Trade Organization (WTO). Thus, the meeting between Yoon and Kishida represents a significant milestone in the efforts to reconcile the long-standing issues and distrust that have plagued the relationship between these two key US allies in Asia.
The Biden administration has been actively pushing for reconciliation and has maintained a steady pace of senior-level trilateral meetings since South Korean President Yoon took charge in May 2022. However, according to the US State Department spokesperson, the recent arrangements between Japan and South Korea were the result of bilateral discussions rather than pressure from the United States. The recent reconciliation between Japan and South Korea has largely been driven by growing security concerns, including North Korea's blitzkrieg of missile tests, Beijing's increasingly aggressive military stance, rising tensions in the Taiwan Strait, weak economic growth, inflationary pressure, supply chain resilience, and climate change. There is a significant incentive for the two to work together. Both countries have identified the Taiwan Strait and Indo-Pacific as critical areas for their security, further highlighting the importance of closer cooperation between them. While dealing separately with North Korea, South Korea has rigorously participated in military drills with the US. Similarly, Japan has hinted at its intentions through the adoption of aggressive policies such as the revised National Security Strategy.
The recent bilateral deal attempts to mend relations and restore cooperation by compensating South Korean forced labor victims through a foundation made up of funds from South Korean companies rather than Japanese ones. This is meant to ease tensions over the 2018 South Korean Supreme Court cases and allow Japan to maintain its argument that all claims have been settled by the 1965 treaty and therefore Japanese companies do not need to provide compensation.
While the agreement might be working for the Yoon government, multiple polls also show that about 60 percent of the South Korean public opposes the agreement, suggesting that it may not provide the closure that both governments are seeking. While Japanese Prime Minister Kishida reaffirmed the 1998 declaration in which Japan expressed remorse for its colonial rule, critics have complained that the Japanese side didn't provide a sincere apology. One victim, Kim Seong-joo, said, "We can forgive; if Japan tells us one word, we are sorry and we did wrong. But there's no such word." Claims by Japanese politicians that Japan is "a victim caught up in the [lawsuit]" or that the deal was a "total victory for Japan" because "we didn't have to concede anything" have only rankled South Korean critics further.
The role ahead for both South Korea and Japan is to forget the past and work towards a prosperous Indo-Pacific region for peace, security, and harmony for all. The political class has taken a step forward with the recent summit; the role of civil society and the media is now important to increase trust between the countries and promote people-to-people contacts to reduce the trust deficit.