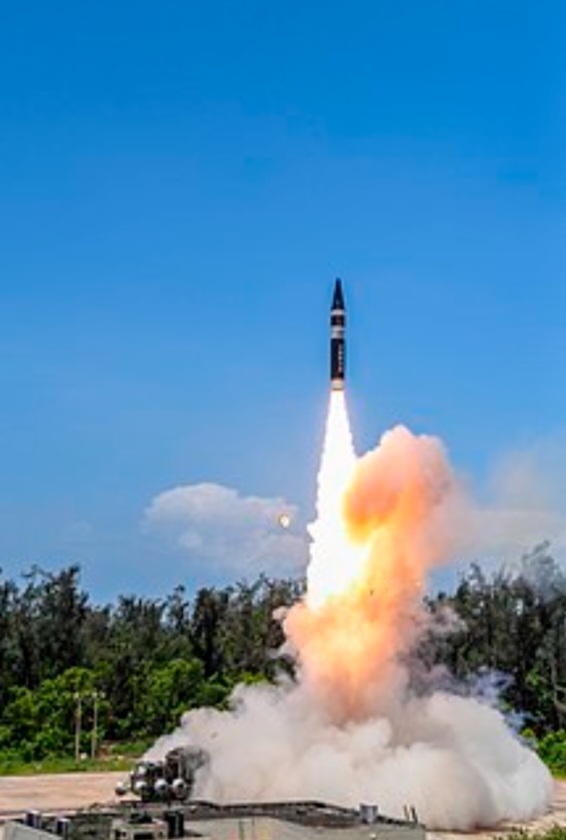 India successfully tested the Agni-Prime New Generation Ballistic Missile on October 21 off the coast of Odisha.
21 October 2022: A new generation of ballistic missiles called "Agni Prime" was successfully tested by India on Friday morning off the coast of Odisha. Defence authorities said that the "Agni Prime third "'s straight successful test had "proved the precision and dependability of the system" and that all test objectives had been reached.
According to the officials, data from many tracking systems, including radar, telemetry, and electro-optical devices, were used to confirm performance.
According to authorities, these systems spanned the whole trajectory and were placed at various points along the flight path, including two down-range ships near the terminal position.
The first test for Agni Prime took place on June 28, 2021, followed by the second test on December 18, 2021, and finally the final test on October 21, 2022. The missile "followed textbook trajectory" and "reached all mission objectives with a high level of precision" on both of those instances as well, according to authorities.
What is Agni Prime?
The Agni Prime, often referred to as "Agni-P," is a nuclear-capable, two-stage canisterized missile from the Agni class with a maximum range of 2,000 kilometres. Notably, it features updated guidance and propulsion technologies and weighs 50% less than the Agni 3 missile. Additionally, because it is canisterized, it may be kept for extended periods of time, launched from a train or a road, and transported in accordance with operational needs. The indigenous missile has been improved to become Agni Prime. It weighs around 11,000 kg. The MIRV, or Multiple Independently Targetable Teenage Vehicle, technology is built into this missile. This indicates that this missile is capable of transporting several nuclear bombs. This makes it possible to simultaneously destroy several targets. When it launches from a border region, the entire nation of Pakistan is subject to its JD. It can be targeted even in Pakistan. China is included in the JD of this Indian missile in addition to Pakistan.
What are Agni Missiles series?
The Prithvi short-range ballistic missiles, submarine-launched ballistic missiles, fighter planes, and the Agni family of missiles make up the core of India's nuclear launch capacity.
Agni missiles are surface-to-surface ballistic missiles with a great range and nuclear weapons capability. Under the Integrated Guided Missile Development Program (IGMDP), the Agni-I, the first missile in the series, was created and tested in 1989. Realizing the strategic significance of the Agni missile program when it was successful and split from the IGMDP. In India's defence budget, it was recognized as a special program and received sufficient funding for future development. The Agni series of missiles are entering service as of November 2019.
What are the other Agni missile ranges?
• Agni I: It has a range of 700–800 km and is a medium-range ballistic missile.
• Agni II: This medium-range ballistic missile has a range of over 2000 kilometers.
• Agni III: With a range of more than 2,500 kilometers, it is also an intermediate-range ballistic missile.
• Agni IV: It is a road transportable launchable inter-medium range ballistic missile with a range of more than 3,500 km.
• Agni-V: An intercontinental ballistic missile (ICBM) with a range of more than 5,000 km, it is the longest in the Agni family.
• Agni-VI: the intercontinental ballistic missile (ICBM) with the greatest range in the Agni family, with a range of 11,000–12,000 kilometers (Under development).
Let's now discuss Important India's Missile:
o Agni (range roughly 5,000): The sole candidate from India for an Inter-Continental Ballistic Missile (ICBM), which is only available to a select few nations, is Agni (range roughly 5,000).
o Prithvi: This 350 km long short-range surface-to-surface missile has strategic applications. In April 2019, India further tested an anti-satellite device. A low-orbit satellite was struck by Prithvi Defence Vehicle Mk 2, a modified anti-ballistic missile. In terms of this capabilities, it positioned India only below the US, Russia, and China.
o Hypersonic Technology: India is only slightly behind the US, Russia, and China in hypersonic technology. In September 2020, DRDO successfully tested a hypersonic technology demonstrator (HSTDV) and showed off its scramjet hypersonic air-breathing technology.
These submarine missiles are also available in India:
Not only this, submarine-launched ie underwater surface-to-surface K4, Sagarika K15, ship-to-surface and air-to-air short and long range Barak 1 and Barak 8 missiles respectively in the Indian Defense Fleet. are comprised. The S-400 missile system, which is regarded as one of the most sophisticated in the world, was also bought by India from Russia.
India's missile technology in comparison to that of (Pakistan and China):
India-
Under the Integrated Guided Missile Development Programme (IGMP), Prithvi and Agni debuted first and second, respectively. When it was created, BrahMos was among the fastest things in the world, traveling at 2.5–3 times the speed of sound. Agni VI and Agni VII, which should have a substantially greater range, are being developed in India.
Pakistan and China:
Pakistan lags behind India, but "a lot of things about China are psychological." Pakistan has received technology from China, but "receiving a technology and genuinely applying it, and afterwards evolving and adopting a policy is altogether different" BrahMos can be employed, however India does not refer to it as nuclear.
Prithvi and Agni are the only nuclear missiles India has; but, beyond these, tactical nuclear weapons may be fired from certain fighter planes of the Indian Air Force or from Army artillery, which have a limited range of around 50 km.
Conclusion
This week, Prime Minister Narendra Modi praised the actions made in that direction.
At the opening of DefExpo 2022 in Gandhinagar, the prime minister declared, "Eight years ago, India was the world's largest importer of defence… but the 'new India' has showed intent and commitment to 'Make in India' the success story of our defence sector." The achievement of the "Agni Prime" test demonstrates India's aspirations to become a self-sufficient defence sector. This shows the rest of the world that we are quite capable of defending our national borders and security as a whole.
About the Author
Anshika Singh
Anshika Singh is student of journalism studying in Delhi University, New Delhi, India and has interest in international relations and defence. She tweets at @Anshika32276658. The views expressed are personal.