By: Lt Col JS Sodhi (Retd)
As hot winds called loo in the local parlance, blew at 2 pm in an afternoon in the month of May 1971, a young three-year-old boy sitting behind his father on a sky-blue Chetak scooter, both of whom were passing by Tibri Military Station near Gurdaspur, told his father that he was thirsty and wanted to drink water. His father Shri Ajit Singh Walia, who was a teacher in Narot Jaimal Singh High School in Narot Jaimal, which is a quaint town 26 kilometres from Gurdaspur, and eventually would retire as the Principal of this school, stopped his scooter at the main gate of Tibri Military Station and requested the army soldier on duty for a glass of water for his son Kamaljit Singh. The sentry gave a glass of water to the young lad. As the young Kamaljit drank the water, his eyes were transfixed on the soldier as he was mesmerised by the uniform of the army soldier. The young Kamaljit Singh took a vow that day to join the Indian Army.
Since that day young Kamaljit would ask questions about the Indian Army to his parents and relatives. One day when Kamaljit was a student in Class V in the same school where his father taught, Kamaljit's classmate brought a Punjabi newspaper which had the advertisement of entry to Sainik School Kapurthala, which is a residential school from Class VI onwards and prepares students for entry as a commissioned officer to the Indian Armed Forces. Kamaljit was unaware of this school and grew quite inquisitive and interested to know about this school more, as the advertisement also mentioned about preparing its students for the Indian Armed Forces.
A year later, the young Kamaljit joined Sainik School Kapurthala after clearing the tough entrance examination. In his school days, Kamaljit excelled in Cross country, basketball and volleyball and was in the school team of all the three sports.
On passing out from Sainik School Kapurthala, Kamaljit took admission in the L.LB course in Panjab University Chandigarh. On completing his graduation, Kamaljit cleared the Combined Defence Services examination and joined Indian Military Academy (IMA), Dehradun on 20 July 1990 as part of the 89 Regular course, fulfilling the vow he had taken 19 years back as a 3-year-old boy.
Born on July 20, 1968 in Gurdaspur, Kamaljit Singh's father was an educator and mother an home maker. He had a younger sister. And destiny made Kamaljit report to IMA on 20 July 1990, the same date on which he was born!
Kamaljit was allotted Keren Company in IMA. It was in IMA that his coursemates nicknamed him KJ. The legacy of being a good sportsman continued with KJ and KJ found a place in the Academy Teams of Basketball and Volleyball. In his second term, KJ as part of the IMA Basketball Team defeated National Defence Academy, Khadakwasla for the first time ever in Hexagonals held in NDA in April 1991. Hexagonals is an annual sports tournament comprising various sports in which the competing teams are NDA, IMA, Officers Training Academy, Chennai, Army Cadet College, Dehradun, Air Force Academy, Hyderabad and Indian Naval Academy, Ezhimala. Till this time no team had defeated NDA in Basketball in NDA itself. KJ helped IMA break a 37-year-old record. For this feat KJ was awarded an IMA Blue, an honour bestowed on chosen few who are proficient in any sport.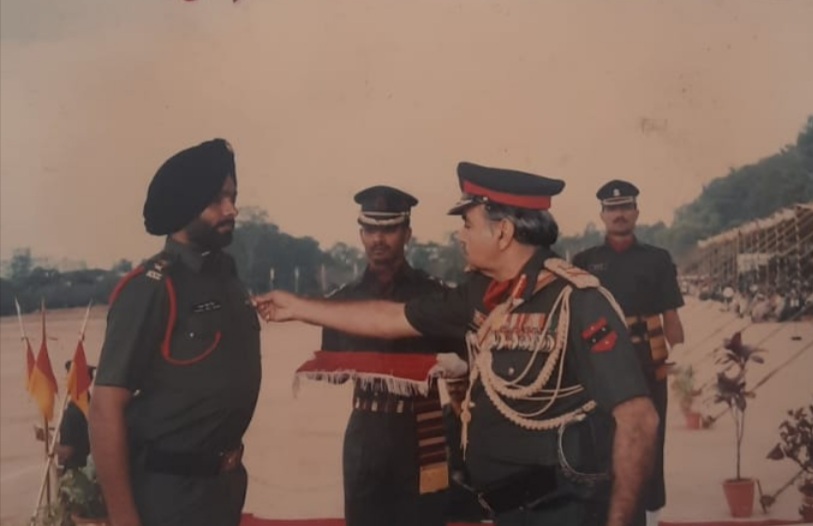 On December 14, 1991, Second Lieutenant Kamaljit Singh was commissioned in Army Service Corps (ASC) and had to do a one year attachment with 27 Rajput, after an impressive Passing Out Parade which was attended by his parents. KJ's parents pipped one star each on the epaulette of KJ.
After three weeks post commissioning leave, KJ reported to 27 Rajput on January 04, 1992 which was located in Binaguri. 27 Rajput was a newly raised infantry battalion which had been raised few years back in 1988. KJ lived up to the motto of 27 Rajput "Nothing but Excellence", as the turn of events would unfold with time.
In January 1992, 27 Rajput got its move orders to Pattan, a highly insurgency prone town of the Kashmir Valley. It was to be 27 Rajput's first deployment in a field area since raising. There was enthusiasm and excitement in the rank and file of 27 Rajput, as the litmus test of any army battalion or regiment is its performance in a field area.
The Commanding Officer of 27 Rajput appointed the newly commissioned KJ as the Ghatak Platoon Commander. The Ghatak Platoon is the nucleus of an Infantry Battalion in any operations in a field area. KJ grasped and appreciated what lay ahead and in right earnest started training his Ghatak Platoon.
On March 07, 1992 the Advance Party of 27 Rajput comprising KJ amongst others moved to Pattan. On reaching Pattan, KJ swung into action of intelligence gathering and understanding the nuances of the intense Counter Insurgency Operations that 27 Rajput was now to be baptised in. By the time the main body of 27 Rajput reached Pattan on April 04, 1992, KJ had done the operational ground work.
The one year ahead saw numerous operations conducted by 27 Rajput in their Area of Responsibility (AOR) which included Pattan, Sopore, Baramulla and Budgam. 27 Rajput killed 43 terrorists and captured over 211 weapons and KJ was the pivot in each of these operations, whether in planning or in execution.
Personally, KJ was part of 33 operations in which 22 terrorists were killed and 117 weapons were captured. In one such operation KJ entered the town of Sopore in a BMP, which is an armoured vehicle, taking the terrorists holed in there completely by surprise. KJ was nicknamed 'Sher Singh" for his fearless personality and aura by the terrorist organisations in their radio communications, intercepts of which were obtained by the Indian intelligence agencies.
For his immense valour and bravery, KJ was awarded Sena Medal (Gallantry). It was also 27 Rajput's first gallantry award since raising. 27 Rajput would go on to be awarded 130 more gallantry awards during its two-year tenure in the Kashmir Valley. The moment of reckoning came when 27 Rajput was awarded the Governor of Jammu & Kashmir's Silver Salver in 1993 and the Chief of Army Staff's Unit Citation in 1994.
Thus 27 Rajput had been successfully baptised and KJ played a pivotal role in it.
After his tenure with 27 Rajput, KJ was reverted back to his parent Army Service Corps where he held important command and staff appointments and was awarded Chief of Army Staff's Commendation Card.
On January 20, 2014, Lieutenant Colonel KJ Singh, Sena Medal left us forever in Army Hospital (Research & Referral), New Delhi after battling an illness at an age of 46 years while he was still in harness.
KJ had truly lived the life of a legend and true to the famous quote of Captain R Subramanium, (Posthumous) "You have never lived until you have almost died, and for those who choose to fight, Life has a special flavour, the protected will never know".
The Nation lost a bold and a brave Officer who will always be remembered for his service to the Nation. Our salute and respect to Lieutenant Colonel KJ Singh, Sena Medal and prayers for his Eternal Peace.
About the Author
Lt Col JS Sodhi retired from the Corps of Engineers of the Indian Army and is an alumnus of NDA, Khadakwasla and IIT Kanpur. He is a M.Tech in Structures has also done MBA and LL.B and is a prolific writer and a public speaker. He features in the World Book of Records, London and the India Book of Records for his media work. He Tweets at @JassiSodhi24. The views expressed are personal.