By: Muktha Prasannan, Research Analyst, GSDN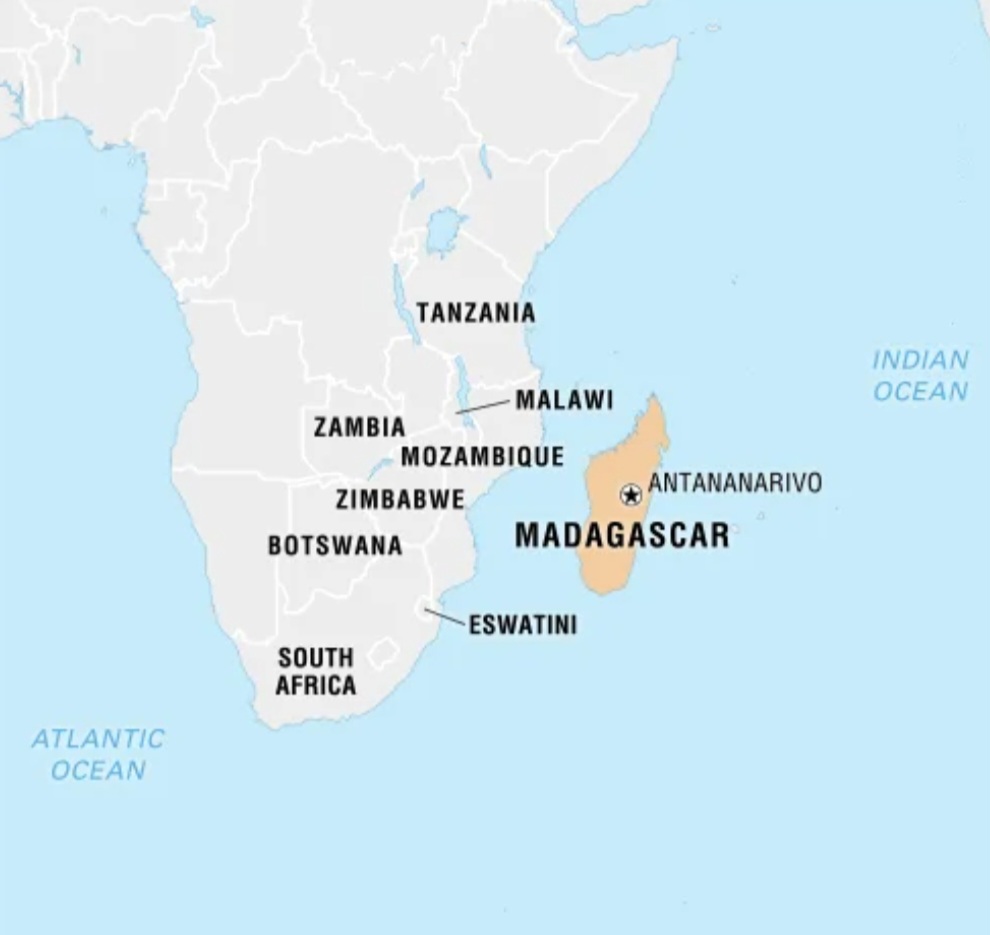 Madagascar is an island country situated off the southeast coast of Africa and is the fourth largest island in the world. Historically, Madagascar had a strong French presence, and contemporaneously, its strategic location bordering the Mozambique Channel has also attracted the attention of other great powers. Besides, the region is exposed to eco-power, which is essentially controlled by international actors which make the country more vulnerable to power competition in the Indo-Pacific. Notably, strategic islands have historically been utilized by developing nations to project power. It has been expected that islands, including Madagascar, will shape a new framework for security structure. However, it occupies a vulnerable geopolitical position in the Indo-Pacific, swaying in the swiftly charging currents induced by climate change.
The country is ranked 167 out of 182 countries on the 2022 ND-GAIN climate vulnerability index. Affected by an exceptional number of tropical cyclones such as Ana, Bastsirai, Emnati, Dumako, Gombe, Jasmine and Freddy, which led to significant infrastructure damage and increase in internal displacement. Despite having abundant natural resources, such as nickel, cobalt, and ilmenite, the island remains among the least competitive on the continent. This has made it feasible for foreign nations like Japan, China, and Russia to provide assistance and investments. Rain fed agriculture; inadequate infrastructure, had made constraints on development, along with weak economic growth and rapid population resulted in poverty in the population.
Having advanced in isolation, the island nation is notable for its distinctive flora and fauna. The population is Malagasy and is branched into about twenty ethnic groups. The majority of the population speaks the Malagasy language and French also being widely used and formally recognized. Traditionally, it is an agro-based economy, concentrating on the cultivation of paddy, rice, coffee, vanilla, and cloves.
Despite rich natural resources and wildlife, and the tourism industry driven by its unique environment, it remains one of the poorest countries with weak economic growth and rapid population growth, ultimately resulting in poverty in the population. The economic growth of the country is stagnant due to political instability and inadequate human and physical capital for development. Furthermore, the region is highly exposed to natural hazards like cyclones, floods and drought on account of its location in the South Western Indian Ocean basin.
Confronted with challenges from economic inequalities and domestic political instability, including violent coups and controversial elections, since gaining independence from France in 1960, with Philibert Tsiranana as President. The 2009 coup had led to five years of political deadlock, international condemnation and economic sanctions. Andry Rajoelina brought an end to a decade of political unrest by assuming the office of President by ousting Marc Ravalomanana in January 2019. President Andry Rajoelina and Prime minister Christian Ntsay have led the country since 2019.
Political unrest and the aftermath of the 2009 coup with successive natural disasters have made the country a center for geopolitics of Indo-Pacific due to glaring vulnerabilities, strategic location and resource potential. Historically, Madagascar had the presence of the French and contemporarily, its strategic location on the Southwestern Indian Ocean separated from the African coast by a 400km wide Mozambique channel, holds a precarious geopolitical focus. Madagascar serves as a development, economic, and security partner for nations in the Indo-Pacific, including France and India. It has a crucial role in guaranteeing freedom of navigation, particularly in the Mozambique channel, a vital chokepoint. As well positioned in Indo-Pacific, occupy the capacity to protect maritime interests and safeguard the naval assets of the partner nations. The country is influential in the Small Island Developing States (SIDS) that have seen interest from the United States, Russia, and China. It has attracted investments and accepted aid from other countries like Japan, China and Russia. US remains to be one of the largest bilateral donors of Madagascar. US aid and peace corps are active in the country.
India and Madagascar association are essential to establishing as stakeholders in the emerging maritime security architecture of the Indo-Pacific. Both countries participated in Indian Ocean Naval symposium and were part of the first maritime India Summit in 2016. New Delhi attempts to use soft power influence through initiatives as Security and Growth for all in the Region (SAGAR), Project Mausam, and Sagar Mala port development project. Both countries have cooperated in multidimensional areas of defense and renewable energy.
China's multidimensional approach with investment in the development of the port of Toamasina, a deep-water port which is a vital resource of island nation. Beijing provided Sinopharm vaccine, healthcare aid and medical kits, oxygenators and ventilators during the Covid-19 pandemic. China focused on technical and humanitarian assistance.
Russia has bilateral relations with Madagascar. Madagascar has signed a military cooperation agreement with Russia, comprising collaboration on development of military products, training of personnel and maintenance of equipment.
Since obtaining independence from France, both nations remain to have diplomatic and cultural and political relations. France has provided funds for its initiative pore l'emergence de Madagascar (IEM). Likewise, US is involved in scientific projects the Deep Underground Neutrino experiments (DUNE).
South Korea has invested in the Toliara roads rehabilitation project and a national disaster management centre. Seoul has interest in food security and biofuel exports from Madagascar. Tokyo provides incentives via Japan international cooperation agency, a project of Asia-Africa growth corridor.
Madagascar is aiming for its third peaceful election with 13 candidates running since the upheaval of 2009 when Rajoelina ousted Ravalomanana. It is a semi-presidential democratic republic with an elected president, a bicameral legislature, prime minister and cabinet. The elections were scheduled to be held on 9 November 2023, with a second round on 20 December if required, later it was announced that elections postponed to one week to 16 November due to pre-political unrest. The High Constitutional Court is scheduled to certify the results on November 30. Full provisional results are expected on November 24.
Madagascar's election matters as this election could be essential in cementing democracy and help strengthen its fragile democracy. As the state has a history of political instability. In fact, the region's wealth of natural resources, fertile land, tourists' hotspot, long coastlines, and young workforce, yet remains as one of world's poor countries with more than three quarters of people living in extreme poverty. Further, the region has the least developed road network and struggles with frequent power-cuts.
According to the IMF, the spending on health and education is low compared to other sub-Saharan African countries; there aren't enough schools and hospitals for the growing population. Meanwhile, environmental threats like slash and burn agriculture and illegal logging have destroyed a quarter of biodiversity in the last two decades. Recent cyclones, floods, and drought made it one of the most vulnerable nations to natural hazards. The stake for this election is about activating the capacity for growth in Madagascar.
The challenges and prospects faced in the region as great power competition intensifies, is affected by political instability. The weak governance and inefficiency of political parties remain key constraint to development. Environmental degradation and threats become vulnerable spot and liabilities that the great powers use to justify their engagement in the country. This could encourage the government to be more selective in forming associations with other countries.
Madagascar has signed agreement with the world bank to reduce poverty, deforestation, and carbon emissions and Emissions Reduction Payment Agreement (ERPA) which provided the aid of USD 50 million to ease poverty among forest communities. Madagascar can observe interactive relations with other powers and enhance cooperation through knowledge sharing, equipment transfers in the emerging realm of artificial intelligence, quantum technologies, undersea capabilities for shared purposes like intelligence surveillance target acquisition and reconnaissance (ISTAR).
As the region remains in peril from natural hazard, which pushes the government to work with other countries, such as the Indian Ocean Rim Association (IORA), which would extend assistance to the country with disaster risk management, maritime safety, and blue economy. For Madagascar, establishing multilateral security partnerships is paramount. The quad plus construct provides equal opportunity for African countries like Madagascar to join partnership, work toward national security and provide assistance in managing natural resources to protect the ecosystem and promote sustainable living.
Island nations count on global powers, who serve a crucial role in creating "regional security hierarchies." As major powers foster cooperation and enhance interoperability in the areas of knowledge sharing and equipment transfer related to artificial intelligence, quantum technologies, and underwater capabilities, such types of hierarchies are enforced. Additional initiatives have been made to reduce infrastructure gaps and increase climate resilience through the Pacific Region Infrastructure Facility, particularly as Madagascar is still a prime example of the vulnerability of islands to climate change.
In an effort to gain influence in the region, major powers are also focusing on resolving Madagascar's resource constraints. Moreover, the strategic use of island nations has allowed the emerging non-traditional actors an overview of the tremendous potential of these countries, which is likely to contribute to a shared goal with major powers to increase influence in the region. After a recent period of relative stability, it has a chance to consolidate its democratic status and fulfil its potential.