By: Rahul Wankhede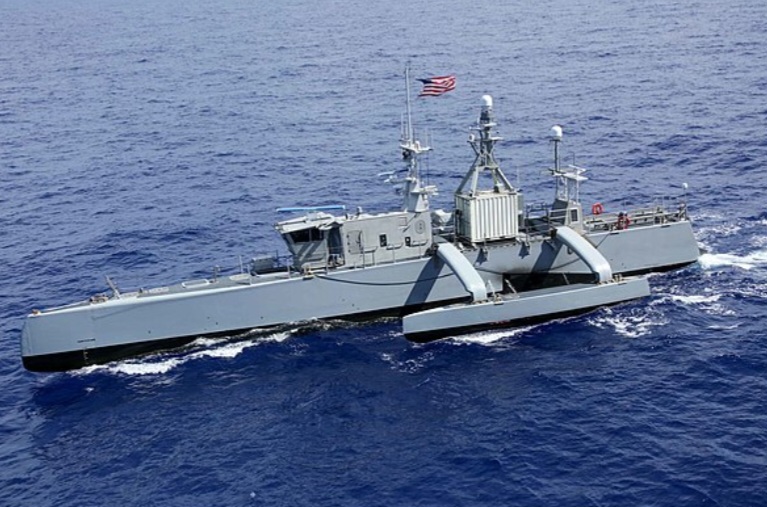 Introduction
Warfare in the 21st century has created another wave of changes in a phenomenon historically known as 'revolution in military affairs". Wars in this century are being fought by advanced sophisticated machines, on behalf of their human owners. Human psyche has now shifted to let machines fight tactical and operational battles on their own. This is where concepts like artificial intelligence serve the purpose of non-contact warfare. The objective here is to minimize the loss and the costs of losing human life. Small scale machines that are capable of delivering deadly weapons to the enemy are being developed. These machines are unmanned – they do not have a human pilot or a driver sitting inside them. They can be either remotely operated by human controllers sitting in a faraway location, or they can be programmed and trained to be autonomous or self-driven.
Two recent happenings in this domain merit our attention towards a new development in unmanned combat systems. Hitherto these technologies were primarily being used for land warfare and air warfare. The new development is about the unmanned systems now being developed to fight naval battles as well. These recent developments are: the launching of Turkey's first drone aircraft-carrier and the Indian Navy's launch of a program to develop High Endurance Underwater Vehicles (HEUV).
Turkey's First Drone Aircraft-Carrier
Turkey commissioned its largest warship on April 10 2023: the TCG Anadolu, being touted as the world's first Unmanned Combat Aerial Aircraft (UCAV) carrier which carried the prototype of the latest Bayraktar TB3 drone sitting on its deck.
This is Turkey's first aircraft carrier and the first ship in the world with an air wing made primarily of unmanned aircrafts. According to the Turkish media Daily Sabah, the carrier is expected to have a mix of different UCAVs in the future. Also, this carrier is categorised as an 'amphibious assault ship'. With a displacement of 27,436 tons, it is 32 meters wide and 231 meters long. It can operate at sea for 50 days, has a top speed of about 21 knots, and a range of 9,000 nautical miles3. Previously when Turkey was a part of the US made F-35 stealth fighter program, this particular carrier was being designed keeping in mind that it would carry the F-35 jets. But USA kicked out Turkey from the F-35 deal after Turkey purchased the S-400 missile system from Russia. Scholars say that this forced Turkey to alter the carrier's design to carry UCAVs and helicopters. Now the ship will witness the installation of drone control stations with satellite terminals for longer-range connections, a "roller system" at the ship's bow to aid in uncrewed aircraft launch, an arresting gear system on the deck to facilitate UCAV landings, and safety nets for the recovery of smaller drone types.
"The Anadolu has six spots where medium-load transport, assault, or general-purpose helicopters can land and take off, along with two other spots that serve as a landing platform for heavy cargo transport helicopters, even though its flight deck is not long enough for classic warplanes to land and take off. Its lightweight deck can support up to 30 wheeled vehicles, including armoured personnel carriers and amphibious vehicles. At least 12 medium-load helicopters can be transported using the ship's hanger. Tanks and other large, tracked vehicles with substantial armour can be transported on the heavy vehicle deck located at the top of the carrier's pool".
The carrier launch was followed by a lift off of the latest Bayraktar TB3 drone. This drone will be fully operational by 2024. Media reports say that the TB3 will fly alongside the Bayraktar Kizilelma, a carrier launched "unmanned fighter jet" which will become operational by 2025. The modern TB3 is the most recent iteration of the potent TB range of assault drones produced by Turkish company Baykar. The TB3, however, is believed to have superior capabilities than its predecessor Bayraktar TB2 and would be used for exports in addition to its domestic deployment in the seas. It must be mentioned that Turkey has already exported a variant of this drone to Pakistan, that rang alarm bells in New Delhi.
The Bayraktar TB3 has foldable wings designed for ship decks and short runways that can take off and land on aircraft carriers. It can also carry out intelligence, reconnaissance, and surveillance tasks in addition to attack operations.
Indian Navy's Extra Large Unmanned Underwater Vehicle
India has launched an Extra Large Unmanned Underwater Vehicle (XLUUV) development project. Around 12 units are to be developed as per the primary data available from the Indian Ministry of Defence. First prototype of this XLUUV is expected to be ready by the end of 2025.
The Indian Navy had started planning to acquire unmanned underwater vehicles since a few years, owing to delays in acquiring more submarines under the Project 75-I. It is important to note here that these submarines will be carrying the Air Independent Propulsion Systems (AiP), a condition which has also been mentioned in the specification of these planned XLUVVs.
"The XLUUV may have a maximum 'length with payload' of up to 50 meters, width of up to 5 meters, height no more than 10 meters and gross weight without ballast under 300 tons. Similar category of systems used in foreign countries include: the German Modifiable Underwater Mothership, the American Orca XLUUV and the Russian Sarma-D. Though these have not yet been fully developed yet; all exist as prototypes currently. China and Turkey are also reportedly planning to develop such systems".
The Indian Navy is planning to use these vehicles for purposes like ISR, anti-submarine warfare, anti-surface warfare and mine laying operations.
Autonomous features are a key requirement under which the vessel should be capable of deploying from a pier, conducting operations in shallow and restricted waters and returning to the harbour on its own 6. It must be capable of being transported by motherships and trailers on land. An external payload of up to 10 tons of armament is also under consideration, with the MoD probing the feasibility of mounting two 533 mm torpedo tubes and mine laying capability for the XLUUV.
"The submerged vessel should have a maximum speed of 8 knots (15 kilometres/9 miles per hour) and a cruise speed of 4 knots (7.4 kilometres/5 miles per hour). Propulsion options may include integrated thrusters or propellers using electric motors. The XLUUV is mandated to have a maximum endurance of over 45 days using either Li-Po/Li-ion batteries or a fuel cell-based Air Independent Propulsion (AIP) system as the power source. A diesel generator may be used to recharge any batteries".
Mazagon Dock Shipbuilders Limited (MDL) had issued an expression of interest in March 2022 for collaboration with global firms in design, development and construction of XLUUVs. Eight smaller High Endurance Autonomous Underwater Vehicles (HEAUV) are also planned to be inducted. These containerized eight-ton vessels would be capable of anti-submarine warfare and mine countermeasure operations, with an endurance of over two weeks. Including the time spent in designing and product development, if successful, these systems will be inducted before the Indian Navy gets any of the six submarines being planned under the Project 75-I. But this is a tactical move on the part of the Indian Navy to bridge the gaps in submarine procurement. These vessels should not be considered as a replacement of the submarine program, since submarines are a strategic asset, and therefore irreplaceable at least in the next 30 years. The government will still have to focus on keeping up the strength of its submarine fleet, to maintain an edge over its adversaries.
Conclusion
While the public and the media have been paying more attention to hypersonics, laser weapons, AI etc. this particular development in unmanned underwater systems hasn't garnered much public attention. But militaries and strategists globally have been thinking about acquiring these lethal technologies since long. Underwater assets are important since: they offer an element of surprise and deniability. A quiet submarine or potent under water platform hidden in the depth of the oceans that can strike a deadly blow anytime, avoiding any kind of detection, is still arguably the best weapon of choice available to armed forces. Plus, the operational and maintenance costs are much lesser as compared to submarines which take years to build and are tough to maintain. Whatever investment goes into these XLUVVs, majority of it happens in the development phase. Once fully deployed, these can be produced at an industrial scale and deployed in any part of the world, technically. Also, since they do not carry human beings, losing any number of these machines would still be economically bearable. Same principles also apply for unmanned drones, irrespective of whether they take off from a ship or a runway. Being launched from an aircraft carrier increases the range of these drones which come at a much lower per-unit price than sophisticated fighters. The cost of human training and salaries etc. also get saved in the longer run here. This unmanned systems market is therefore a quantitative market. It increases the lethal reach of the operator with no direct loss of physical lives. Such systems are therefore a part of the new generation of the 'revolution in military affairs' , a scenario in which they will operate autonomously as well as a part of 'system of systems'. Such disruptive technologies will then definitely alter the balance of power in the world, as the nation which has a technological edge over its adversary will have a qualitative advantage in the end results of any conflict.
About the Author
Rahul Wankhede is a post graduate in Defence and Strategic Studies with a gold medal. Rahul has worked with think tanks and NGOs in the domains of research, analysis and mentoring and is a former Assistant Professor in the Department of Defence and Strategic Studies, Savitribai Phule Pune University, Pune, India. Currently he is doing PhD from JNU Special Centre for National Security Studies. The views expressed are personal.