By: Vaishnavi Verma, Research Analyst, GSDN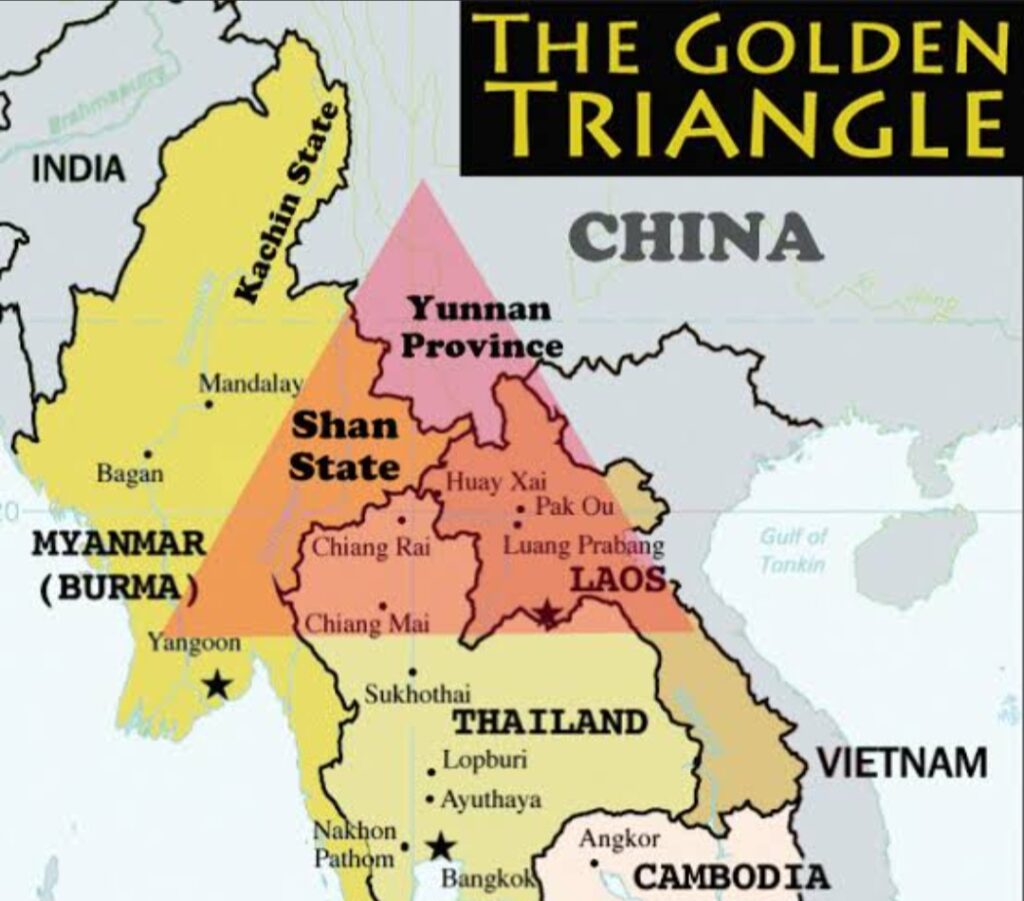 What is the Golden Triangle
The Golden Triangle is a geographic area located in Southeast Asia that encompasses portions of Myanmar, Laos, and Thailand. Since the 1950s, the aforementioned area, including Pakistan, Afghanistan, and Iran, has emerged as a prominent hub for opium production globally, alongside Afghanistan in the Golden Crescent region. Additionally, it serves as one of the most ancient conduits for the transportation of drugs to North America and Europe. It is the world's second-largest producer of narcotics, after only Afghanistan's Golden Crescent.
The Golden Triangle and the Shan State
The Shan state of Myanmar is well recognized as the primary source of illicit narcotics inside the renowned Golden Triangle, an area where the borders of Myanmar, Laos, and Thailand converge. Before the influx of Afghan narcotics onto the global market during the 1990s, the Golden Triangle had the distinction of being the primary global hub for heroin production. Since the beginning of the 2010s, the manufacturing of methamphetamine with higher potency and more profitability has resulted in the area being the foremost global producer and exporter of this substance.
A significant portion of the precursor chemicals used in this context are readily obtained from China, which shares a border with the country. Additionally, some quantities of these compounds are also acquired from India. The prevailing instability in Myanmar has fostered the growth of manufacturing capacity, particularly in the case of Yaba (methamphetamine tablets), which can be manufactured with relative ease in small-scale cottages.
The production of illicit substances within the region of Shan State is an inherent and inseparable component of its intricate political economy. Following the dissolution of the Communist Party of Burma in 1989, a residual faction known as the United Wa State Army (UWSA) emerged. Notably, the UWSA has fostered a significant rapport with China, characterized by substantial military assistance. In light of these circumstances, the UWSA engaged in negotiations with the junta forces, ultimately resulting in a ceasefire agreement. The United Wa State Army (UWSA) undertook a coercive measure involving the relocation of approximately 100,000 Wa civilians to Mong Yawn, a region situated along the Thai border. Subsequently, this area assumed the role of a prominent centre for the production of Yaba, a stimulant drug. The United Wa State Army (UWSA) has emerged as a prominent actor within the drug economy of the Shan region, alongside various other ethnic militia groups.
Following the occurrence of the 2021 coup in Myanmar, Thailand's Office of Narcotics Control Board has reported the seizure of over 330 million Yaba tablets. The quantity of crystal methamphetamine, often referred to as 'Ice', confiscated is consistent with the previous year, amounting to 15 metric tonnes. According to an estimate provided by the International Crisis Group, the yearly production of methamphetamine in the Shan region is significantly above 250 tonnes. According to available reports, there has been a notable exponential surge in the retail price of methamphetamine as it makes its way to the profitable markets of Australia and Japan from Myanmar. Billions of dollars of illegal funds are being amassed in major metropolitan areas outside of Myanmar due to the flow of narcotics originating from the Golden Triangle. The markets catering to the upper echelons for these pharmaceutical products include Australia, New Zealand, Japan, South Korea, Russia, the United States, and the United Kingdom. It is projected that the earnings from these markets in the year 2019 was a staggering sum of US$ 71 billion.
Evolution to chemical drugs: The golden triangle drug trade started with opium. The Shan State of Myanmar has massive labs that manufacture and export heroin. Smugglers utilized US military jets to deliver goods to America during the Vietnam War. Recently, the pharma industry has changed drastically. Due to difficulty accessing raw materials and infrastructure for opioid drug manufacture, the Golden Triangle drug business is changing to chemical-based substances like methamphetamine, ketamine, Yaba (methamphetamine plus caffeine), etc. These medications are simpler to make and earn greater money than opioids, thus opioids' part of Golden Triangle's drug sector has dropped to less than 30% and is declining rapidly. This is shown by UNODC data that showed methamphetamine seizures in Southeast Asia exceeded 171 tonnes in 2021 and 182 tonnes in 2022, including 28 tonnes of ketamine. South East Asia seizes over 90% of all pharmaceuticals as chemicals. These estimates are solely for seizure and represent merely the top of the whole output, which may be tens of thousands of tonnes.
Participation of Chinese drug dealers: Golden Triangle features some of the world's most organized drug gangs in Guangzhou, Beijing, Shanghai, Hongkong, Thailand, Taiwan, and Macau. Most cartel leaders are Chinese, such Sam Gor gang, which controls roughly 40% of the Golden Triangle business. These cartels make narcotics in the Golden Triangle and distribute them worldwide. ASEAN ($100Bn), Australia, Japan, New Zealand, and South Korea ($30Bn), China & Russia ($20Bn), and other regions ($50Bn) are large markets. Cartel owners who control tiny armies to defend their manufacturing zones always keep local governments on their side. They have hired numerous former Army Generals in the current drug trafficking in Myanmar, and their ties to the government make it almost hard to capture or punish the cartel.
Manipur's Importance and Drug Trade in Manipur: With over 400km of porous border with Myanmar, Manipur is an important Indian border state. Since the military junta took power in Myanmar, drug manufacturing has skyrocketed on both sides of the border. Chemical medications are becoming increasingly popular in Myanmar and Manipur due to their simplicity of production, transportation, little infrastructure, and inexpensive pricing. The state government data shows that opium production increased in Manipur, but international data shows that the market for opioid-based drugs has decreased to less than one-third of the drug business in Manipur. The drug industry in Manipur is estimated to be worth INR 70,000 crores. The numbers are worrisome. The drug industry in Manipur is mostly chemical (60-65%), opioid (30%), and cannabis (5-10%). Like the Golden Triangle, narcotics syndicates in Manipur include manufacturers, traders, intermediaries, politicians, armed insurgency groups, officials, and even security personnel.
IMPLICATIONS FOR INDIA'S REGIONAL DYNAMICS
The extensive and permeable land border between India and Myanmar serves as a secure refuge for the infiltration of illicit substances, including yaba and heroin. The confiscation of heroin shipments in Indian urban centres like Guwahati and Dimapur may be traced back to their source in the Golden Triangle region. The entry sites for Myanmar's heroin and methamphetamine into India are located at two distinct locations, namely Moreh in the state of Manipur and Champai in the state of Mizoram. The procurement of precursor chemicals, such as ephedrine, acetic anhydride, and pseudoephedrine, originates from locations in South India, namely Chennai. These chemicals are thereafter transferred to Kolkata and Guwahati, passing via Delhi, and are then illicitly smuggled over the border into Myanmar. This illicit activity underscores existing vulnerabilities in domestic security.
Opium cultivated in the border districts of Manipur and Mizoram is thereafter taken to the Golden Triangle, where it undergoes processing to be transformed into heroin, before being reintroduced into India. The states of Manipur, Mizoram, Nagaland, Sikkim, and Arunachal Pradesh, located in the northeastern region of India, are ranked among the top 10 states in terms of drug addiction prevalence.
Drug trade dangers include increased drug usage, HIV infection via sharing needles, and insurgency financing. According to reports, the Myanmar military may be assisting drug manufacturers by forming an informal alliance with northeast Indian rebel groups including the Kanglei Yawol Kanna Lup (KYKL) and the Manipur-based People's Liberation Army. Sixteen of these organizations usually acquire guns using drug money. Two years after the Indian and Myanmar military's 2019 'Operation Sunrise' demolished their camps, these rebel groups are reorganizing. Enforcement officials said large volumes of Myanmar's drugs, mainly yaba tablets, have reached every "town and village" in Bangladesh over weak highland borders. Bangladeshi security forces have detained thousands of peddlers and killed hundreds accused of narcotics trafficking. Several gangs are trafficking approximately 80% of yaba tablets into the nation via Rohingya refugee camps in Cox's Bazar, with an estimated 1.2 million people. In Bangladesh, the Arakan Army sells yaba tablets to support its struggle against the authorities in Rakhine. Yaba pills reach Bangladesh from India through Kurigram district in the north, Fatehpur border point in the southwest, and Patuakhali via sea.
CONCLUSION
The worldwide issue of illegal drug trafficking is prevalent, with some regions such as the Golden Triangle serving as significant hubs for this activity. The illicit proceeds derived from drug trafficking are used to fund unlawful endeavors, including but not limited to criminal actions and acts of terrorism. The establishment of multilateral collaboration among South and Southeast Asian nations within the banking sector to track illegal funds derived from drug trafficking may be very advantageous in addressing the transnational dimensions of this pressing issue. In 2021, a collaborative multinational endeavor spearheaded by the US Department of Justice and Europol resulted in the apprehension of 150 individuals involved in drug trafficking. These individuals were operating throughout the United States, several European nations including France, Germany, and Italy, as well as Australia, using the dark web as a platform for drug distribution.
The people who cultivate, make, and sell illegal drugs are usually poor. Often unemployed, people may be forced to perform such jobs. The COVID-19 epidemic has left millions of unorganized workers unemployed worldwide. The International Labour Organisation estimates that 72 million G20 workers were engaged in Covid-19-affected industries. Without social protection, disadvantaged and jobless people in underdeveloped nations are often pushed to labor illegally. To discourage vulnerable people from slipping into the drug trade, governments may offer social security systems and prioritize jobs.