By: Vaishnavi Verma, Research Analyst, GSDN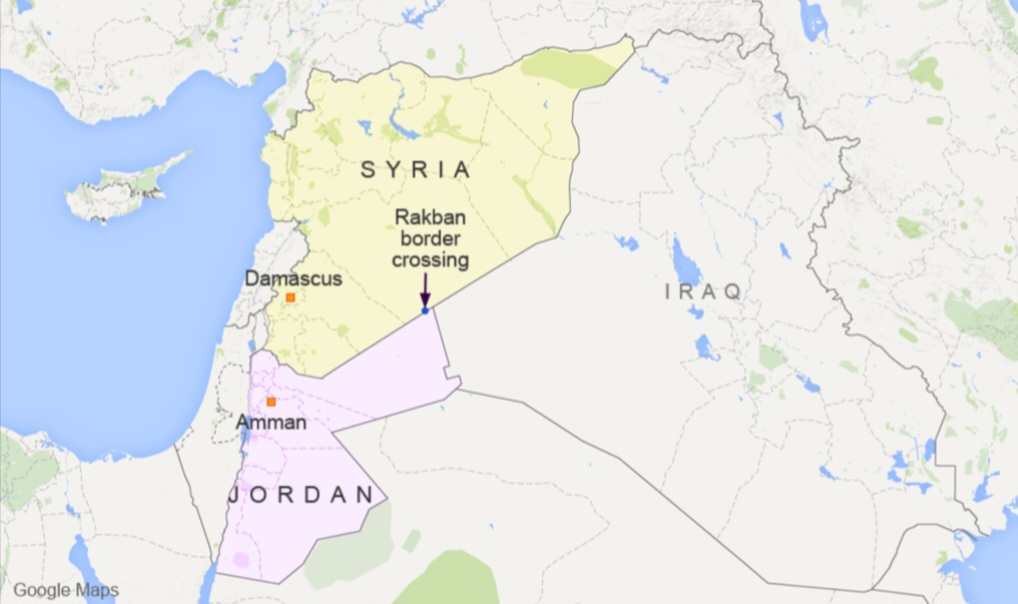 Jordan has made a significant effort to re-establish normalcy with Syria in recent months. There had been a diplomatic rift between Syria and Jordan before the Arab Spring and the Syrian civil war bringing their relationship to an all-time low. Jordan withdrew its ambassador from Syria in 2012, but kept their embassy open, denouncing the activities of the Syrian government against their nationals. Jordan removed Bahjat Suleiman, the Syrian ambassador, on May 26, 2014 ostensibly as a result of comments he had made criticizing Jordan's support of Syrian rebels. In reaction, because the Jordanian envoy was no longer physically present in Syria, the Syrians symbolically ejected him from the country.
First of all, even at the height of regional and worldwide condemnation of Syria's harsh policies after the commencement of the uprising in the nation back in 2011, Jordan never severed ties with Syria. Jordan has always believed that severing ties with Damascus is not a useful strategy for influencing its practices and policies.
On the contrary, there was only going to be a chance to patch things up in Syria and put an end to the brutal civil war that resulted from continuing to have ties and communicate with the Syrian leadership.
Hundreds of thousands of Syrian refugees left war-torn regions at the same time and fled to Jordan. Opposition forces liberated the regions close to the triangle formed by the borders of Israel, Syria, and Jordan. The Syrian opposition also took control of the region on the outskirts of Swaida, east of the city of Daraa. The Syrian government-maintained control over Daraa up to the Nassib-Jaber border crossing. Parts of the city of Deraa and the border crossing were taken over by opposition forces in 2015.
At first, Jordan did not let Syrian opposition agents operate from Jordanian territory against Syria. Fears that the Muslim Brotherhood might seize power in the event of the Assad regime's downfall and maybe deepen this trend in Jordan, endangering the stability of the Hashemite monarchy, were the primary cause of this.
Jordan's concerns grew in 2015 as ISIS supporter Jish Khalid ibn al-Walid captured the border triangle between Syria, Jordan, and Israel. The expansion of Sunni radicalism within ISIS into Jordan was a major source of worry for Jordan.
Due to the opposition factions' lack of cohesiveness on Syrian territory, the situation on the Jordanian-Syrian border deteriorated in 2014. Syria has developed into a hotbed of Islamic extremism, home to groups like ISIS and Al-Nusra Front (Al-Qaeda).
Jordan agreed to set up a joint operations and coordination centre with the several nations participating in Syria due to concerns about Sunni extremism seeping into Jordanian territory. This centre, known as the Military Operations Centre (MOC), included Arab nations like Saudi Arabia and the United Arab Emirates as well as Western nations like the United States, Britain, and France. Under the supervision of Jordanian intelligence officials, this operations room functioned inside Jordanian territory.
Jordan has advocated for a peace deal that would put an end to the Syrian crisis and permit Damascus' readmission to the Arab League as part of its larger strategy for guaranteeing stability and security in the region.
A unified Arab committee that "would directly engage the Syrian government on a detailed plan to end the conflict" was one of Amman's initiatives, which were made public in April. For Syria to reclaim its place in the region and rejoin the Arab League, a comprehensive plan addressing all the pertinent concerns must be addressed. Syria was eventually readmitted to the Arab League in May, ending a decade-long ban.
However, there doesn't seem to have been much progress in the two countries' bilateral ties since the first rapprochement. Instead, it seems to have stalled as a result of several issues that need strong bilateral collaboration.
The first problem is the ongoing drug smuggling from Syria into Jordan after the reconciliation. Drug trafficking may cause commerce between Syria and Jordan to become unstable. Another issue with drug trafficking is that it threatens a nation's social, political, and economic stability, which in turn fuels an increase in other criminal activity. This problem may become especially dangerous in a nation like Jordan, where there are a lot of young people.
Since Damascus has regrettably turned into a centre for the manufacture of illegal narcotics, Jordan believes that the reintegration of Syria into the regional scene might help solve this problem.
It is now easier for criminal organizations to operate an underground economy and manufacture and transport illegal substances into other countries due to the civil conflict, lack of security, political vacuum, economic crises, and international isolation of the nation. The stated value of this multibillion-dollar economy in Syria is almost three times more than the total commerce of the cartels in Mexico.
A climate that is conducive to criminal gangs engaging in an illicit economy and producing and smuggling illegal substances into other nations has been created by civil conflict, lack of security, political vacuum, economic catastrophe, and isolation of the nation by the international community. According to reports, the overall value of the Mexican cartels' trade is about three times that of this multimillion-dollar sector in Syria.
Jordan is working harder than ever to stop the flow of illegal narcotics out of Syria. Several drones bringing Syrian crystal meth into Jordan have been shot down by the Jordanian military.
Officials from Jordan and Syria have met on many occasions to discuss the illegal drug traffic, but little has been accomplished to address the problem. During their July meeting in Damascus, Assad and Ayman Safadi, the foreign minister of Jordan, reportedly discussed "the dangers posed by drug smuggling across the Syrian border into the kingdom, and the need for cooperation to confront it."
The refugee crisis is the second barrier separating the two countries. Many Syrian refugees in Jordan have chosen to stay where they are, refusing to go back to their homes despite the re-engagement between Amman and Damascus.
One million and four hundred thousand Syrian refugees were predicted to exist in 2021, making up around 10% of Jordan's population. The economy of Jordan is severely impacted by the influx of Syrian refugees, particularly in the areas of employment, social care, and the water sector. A nation that hosts the second-highest number of refugees per capita worldwide is under tremendous socioeconomic strain as a result of this.
Jordan is home to over 675,000 Syrian refugees who are officially registered with the UN High Commissioner for Refugees. The refugees fled their home country in 2011 when the situation there caused unfathomable misery for its residents. Jordan's cities and villages are home to the majority of Syrian refugees. Only 17% of refugees dwell in the two biggest camps, Za'atari and Azraq.
This support persisted and even became stronger as long as Jordan was under attack from different opposition factions. This happened as Jordan hosted and cared for hundreds of thousands of Syrian refugees who had fled to northern Jordan after the start of the conflict in Syria and were divided between the two camps at Zaatari and Mafraq.
Another important effect is the demographic issue. Jordan's objective is to repatriate most, if not all, of the refugees to Syria. But marriages have developed over time. Young Syrian ladies wed nationals of Jordan. The kingdom's internal security and stability are threatened by this population problem. The al-Rukban refugee camp, which is the easternmost on the Syrian-Jordanian border, is one example of the radical Islamic elements that the Jordanian government fears and has been the source of assaults against Jordanian security forces.
Russia's military intervention in the Syrian civil war in 2015 served as a breaking point, assisting the Syrian army, Hezbollah, and the Iranian Quds Force in regaining control of all of Syria over time, including agreements on the Syrian-Jordanian border for peace in 2018. It was well understood in Jordan that Assad was here to stay, backed by Russia and Iran. Jordan therefore consented to the actions of Russia and the cessation of Western assistance to the resistance.
In Jordan's bordering province of Deraa, the security situation is still unstable. However, Jordan has been working towards normalization, and relations with the Syrian government headed by Assad have improved recently. Jordan intended to reestablish diplomatic relations with Syria as early as December 2019.
Then, it was announced that a group led by Samir Habashneh, the minister of agriculture, and Tarek al-Masri, the former prime minister of Jordan, would go to Syria to restore ties between the two nations since they share interests. Against the backdrop, efforts to normalize ties with Syria have also been made by other Arab nations, like the United Arab Emirates.
King Abdullah paid a visit to the US in July 2021. During their meeting, US President Biden gave him a proposal for ending the Syrian conflict, which included normalizing relations with Arab nations and releasing Jordan from the "Caesar Act."
A Syrian team went to Jordan in September 2021 to talk with the prime minister and his ministries about commerce, agriculture, economy, and water concerns. Many delegations from Syria came to Jordan in the weeks that followed to discuss security and economic matters.
To coordinate the security of the shared border and combat terrorism, particularly drug smuggling, which worries the Jordanians greatly, Syrian Chief of Staff Ali Ayoub travelled to Jordan on September 19, 2021 and met with Jordanian Chief of Staff Yusef Al-Huneiti.
King Abdullah and Bashar al-Assad talked over the phone on October 3, 2021. They spoke about ways to improve their collaboration as well as the relationship between the two nations. The King of Jordan emphasized that his nation supports initiatives aimed at preserving Syria's territorial integrity, stability, and sovereignty.
Meetings with business delegations resulted in an agreement to restore the Jaber-Nassib crossing, which had been closed in April 2015 after the occupation of the region by Syrian rebels. The border was reopened in October 2018 with the achievement of peace accords; however, it was closed once again in 2020 due to the coronavirus. In practice, the crossings formally opened on October 29, 2021 together with the free trade zone. Flights between Amman and Damascus were also agreed to restart in October 2021 ((this has not yet been implemented). The opening of land and air border crossings will help to stimulate the Jordanian and Syrian economies tremendously.
Relations between Syria and Jordan are not inevitably moving towards complete alignment. Much remains to be seen in terms of the Syrian regime's behavior towards Jordan, as well as regional and international policy towards Syria. Even if this is a new era in Syria-Jordan ties, it has only just started, and its future course is uncertain. Nonetheless, most indicators indicate that Jordan's economy has already profited, if little, from stronger links with Syria. Jordan is also seeking to develop a new economic paradigm for itself. In this concept, Jordan would be more than just a market for Syrian products and a transit stop for them on their route to Gulf markets; it would also be an exporter to Syria and a connection connecting Syria to worldwide markets. Finally, although the strengthening of Syrian-Jordanian economic connections is a significant success, it may also help to foster collaboration on other concerns, such as water difficulties, border security, and, eventually, regional politics.