By: Kashif Anwar, Research Analyst, GSDN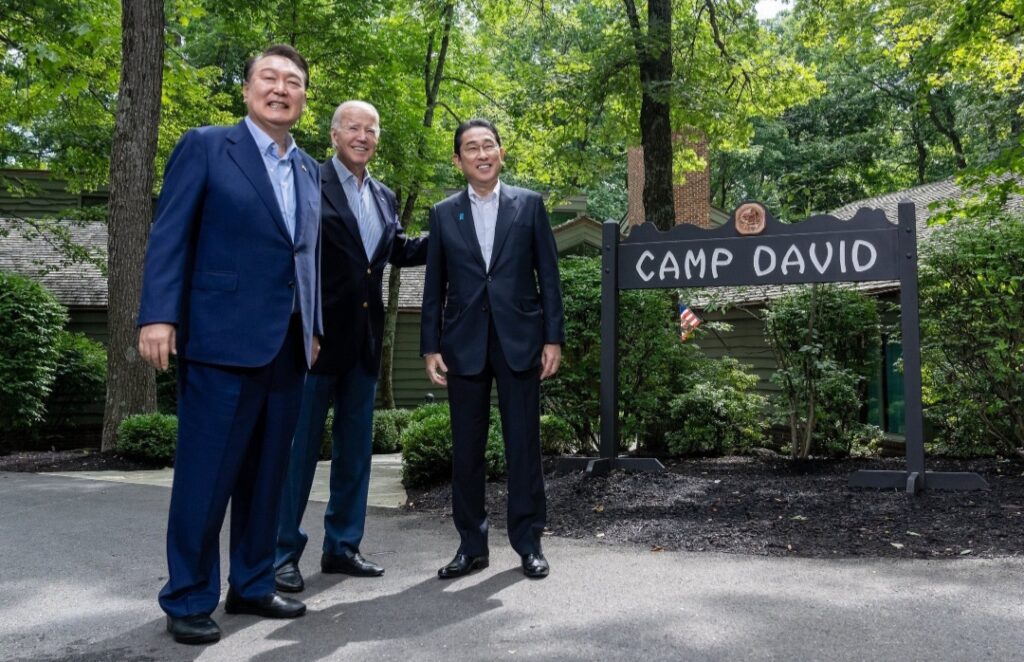 Introduction
Growing China's assertiveness and being vocal in regional and global development hasn't only shifted its accommodation to global practices and order, it also began to threaten the fine fabric which kept global order since the end of Cold war. As North Korea and its nuclear programme and Taiwan and its sovereignty issue, have been a major issue in the East Asian region, and China's response to such developments have alarmed countries like South Korea and Japan. With the US leading the approach to counter China in Asia and the Indo-Pacific region, over the years, it has allowed many like-minded nations to bandwagon with the Biden administration to secure their shared interest and address threats emerging from China.
The establishment of the AUKUS, I2U2, CPTPP and other blocs like G7 and NATO, and the ongoing tech and trade war with China has become a part of today global geopolitics to thwart any Chinese aggression under President Xi Jinping's leadership. Recent Camp David summit/meeting held on August 18, 2023 between the US, Japan and South Korea has opened a new era of trilateral cooperation between them in various domains. Unlike G7 and NATO's annual meeting, this trilateral cooperation has allowed the US, Japan and South Korea to hold talks at different level range from state heads to cabinet level meetings over issues like the military and defence cooperation, the supply chain issue, emerging and advanced technologies, economic security, development assistance and countering disinformation. Such cooperation will allow the US to proceed with the 1969 Nixon-Sato the 'Korea Clause' to establish a strong trilateral cooperation between the US, Japan and South Korea which has been stymied by a weak Japan-South Korea bilateral relationship.
Growing Chinese threat
China drive 1/3 of the global economy, a slump recovery of the Chinese economy has become a matter of concern for the global economy recovery. If the Chinese economic growth witness a growth of 1% point it will boost the global economy by 0.3% point, and thus recovery of the Chinese is needed. West decoupling from the Chinese economy and growing US-China trade and tech war has started to impact the Chinese economy has enhanced Chinese assertiveness to ensure the Chinese Communist Party's control, relevance and dominance at home is secured. China's economic, financial and military actions to secure its national interest and Chinese-led developments in the South China Sea, East China Sea, the Korean Peninsula and the ongoing US-China rivalry in the Indo-Pacific region made the Chinese threat to Japan, South Korea and the US concerning and alarming. On the other hand, China argues that to thwart the West and a quasi-NATO plus in the region, it needs to make full diplomatic and military preparation and strengthen its cooperation with its neighbours especially Russia to uphold true multilateralism and defend region's peace and stability.
Slow Chinese economic growth coupled with the domestic economic woes has prompt fear in its neighbour like Japan, South Korea and in many ASEAN's members that China will act more aggressively in near future. With China's military capabilities mature, military actions by China in future can't be ignored as the US prohibitory measures to strengthen its economy and counter China's rise has alarmed China. As China's naval presence and actions in the South China Sea has increased, the recent deployment of swarms of Chinese satellites like the Shiyan 12-01, Shijian-17 and Shijian-23 to spy the recently concluded Malabar Exercise such Chinese actions will increase in the coming years. As China views the developments in its vicinity directed against its rise, it will destabilise the Asia-Pacific region. It further argues that nations are becoming US hatchet men to serve its goals which will only incite confrontation in the region.
The Camp David Meeting: Development of new Axis
Japan and South Korea recognises China and its aggressive maritime policies as a major threat which today has coupled with North Korea's growing nuclear arsenal and planned spy satellite, puts Japan and South Korea to strengthened the bilateral ties to address such concerning issues. The recently concluded Japan-South Korean-US Camp David meeting was a result of improved ties between Japan and South Korea. Deteriorating economic and bilateral ties between Japan-China and South Korea-China with increased competition from China in recent years push Japan and South Korea to play a greater and vital role in Northeast and East Asia's geopolitics.
As South Korea and Japan have addressed their historical differences – Japan's colonial and wartime legacy – and have aligned to counter Chinese influence in Northeast Asia, which also happen due to the external pressure. As the US actively working to bring its allies and new friends and strategic partners under the same umbrella which will not only create prospects for both and also helped them to counter China in near future. Such developments in the coming years will increase which will expand anti-China alliance pushing China to be more assertive in its approach unilaterally and through Chinese controlled blocs and institutions.
The Camp David was a result of rapprochement between South Korea and Japan as the threat posed by China's economic transformation has today eclipsed Japan-South Korea long standing trade rivalries. With Chinese and North Korean dimension plays a vital role in such a development, improvement of South Korea-Japan bilateral ties also happen due to meeting of minds between South Korean President Yoon Suk and Japanese Prime Minister Fumio Kishida on security issues. As Japan and South Korea's trade relationship with China has shifted from strong complementarities to increasing competition in key strategic industries.
As the Camp David meeting is viewed as a milestone in the Northeast and East Asian region geopolitics, something similar to the scale and impact of the AUKUS and I2U2. It allows the US, Japan and South Korea to expand their economic and security relationship and it cemented a new agreement to form a new trilateral ally system to address the tense relationship with China and North Korea. With 'Camp David Principle' and 'Spirit of Camp David' is agreed upon with former setting guidelines for trilateral cooperation and later outlining the vision for cooperation and implement Camp David's plans. To ensure it happens, a hotline communication has been established to ensure that the group works to ensure a safe world. The US President Biden has said that such cooperation is not about China, rather to focus on a broader security issue. However, the concluding joint statement, mentions China while highlighting its dangerous and aggressive actions in the South China Sea region. The statement says it strongly opposes any unilateral attempts by a country to change the status quo in the Indo-Pacific region.
Under this new trilateral security cooperation, to address the crisis emerging from China and North Korea, Japan, South Korea and the US have agreed to consult, share information and align their messaging with each other in the face of a threat or crisis. The role, place and significance of Camp David has in the US and world history, it has brought Japan and South Korea together to address security concerns emerging from China and North Korea to an extent. As forging of this new trilateral relationship strengthens the US treaty ally system with Japan and South Korea, to maintain peace and stability in the Taiwan Strait and address Chinese economic coercion.
Challenges Ahead to counter China's rise
China views the development as an effort to develop a Pacific version of NATO to encircle and curtail its rise and growth. It criticised the move as a starting shot for a Cold War which will bring more risks. Chinese Ministry of Foreign Affairs argues that such a development will transform Asia-Pacific region's peace and development into an arena for geopolitical games. The ministry further said that attempts to form exclusive small cliques or groups will bring camp confrontation and military bloc in the region. While South Korea's focus is on the developments in the Korean peninsula which isn't a top priority for the US and Japan, the loss of all three nations will be different. China said that such aspects are concerning for South Korea who will be the biggest loser in such an arrangement
To make the meeting a success, it requires a strong coordination based on a more robust institutional foundations between the US, Japan and South Korea. As US President Joe Biden has stated that annual multidomain military exercises will bring the bilateral defence cooperation to unprecedented level. The initiative will assist them to build a strong commitment. Japanese PM Kishida has said that the international community is at a turning point in the history and the US-Japan-South Korea collaboration needs to ensure the trilateral security coordination reaches new heights in coming years.
The meeting is directed to address such concerning issues, as all three countries are aware that the Japan-South Korea rapprochement has a time frame of four years to cement their new found ties. South Korea President Yoon Suk is risking his political capital to mend relationship with Japan. As Camp David meeting was a standalone and has not happened at the side-line of any major global summit like of the NATO or G7 or G20, the meeting has to ensure that the work done in previous two meetings between Japan and South Korea are secured to strengthen bilateral trade, ties and strategic relationship under newly established trilateral security cooperation.
Conclusion
As the Camp David summit is of global significance, it will lay the roadmap for the US, Japan, South Korea to coordinate their efforts on military and security while ensuring global economic stability. Such a summit highlights that a consensus has been established amongst all three countries to push and counter the destabilising impact from Chinese threat. The significance of the summit can't be ignored and all three nations have to ensure a grass-root support between them for unwavering support to the Camp David Principle. However, question remains with the US Presidential election 2024, that will a new US President be as motivated as Biden for such meetings or not? As no show from the US President will impact the trilateral defence and economic cooperation to thwart an aggressive posture from China and North Korea. Despite summit's scopes and limitation, the trilateral cooperation has unanimously agreed to take necessary measures to confront any challenges the Indo-Pacific region is facing from authoritarian rulers.