By: Aasi Ansari, Research Analyst, GSDN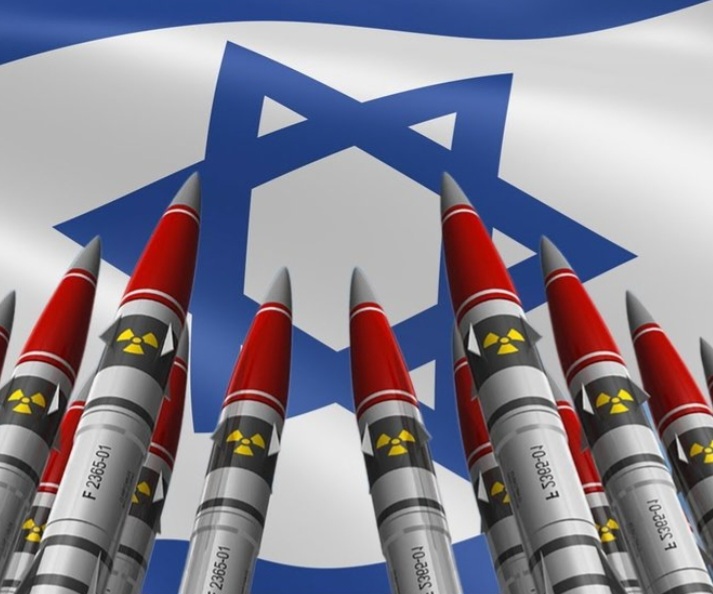 Introduction
Unlike the other eight nuclear states, Israel has not been fully transparent about its nuclear capabilities. Although it is well known that Israel possesses several weapons of mass destruction, United States overlooks the secrecy surrounding Israel's nuclear weapons. The main reason is the deal between America and Israel in 1969, in which America would accept a nuclear armed Israel and keep it a secret. However, there is no official record of this deal.
In 1974, Iran and Egypt first proposed Weapon of Mass Destruction Free Zone (WMDFZ) in the Middle East to the United Nations General Assembly (UNGA). Till 2018, this resolution has been passed every year without any vote by UNGA. In November 2019, UNGA brought WMDFZ to a vote but United States and Israel didn't attend the conference. This conference was planned again to be organized in November 2020 but due to the pandemic it was postponed. The absence of USA and Israel in this conference keeps them in suspicion regarding the nuclear capabilities of the Israel.
Israel's Nuclear Capability
It is believed that Israel have up to 90 Plutonium Warheads. Simultaneously, having enough nuclear material stockpile for 200 more, i.e. 300 kg of weapon grade Uranium and 980 kg of weapon grade Plutonium. However, the number of Israeli nuclear warheads cannot be confirmed. The effectiveness of those warheads are questionable because of the lack of testing. Israel took help from other countries such as France, South Africa and Germany to develop its nuclear weapon program. Israel may have used data of nuclear weapon testing from France in early 1960s and might have tested a nuclear explosion in South Africa in 1979. Nevertheless, France broke off from the deal in 1967 as a result of the Six-Day War.
Israel is considered to have nuclear missiles in all three domains, i.e. aircraft based, submarine based and land based. Israel have bought many aircrafts from the US including A-4 Skyhawk and F-4 Phantom which are capable of delivering nuclear bombs. Israel also have fighter jet planes such as F-15, F-16, F-35 that are believed to carry a gravity bomb with minor changes. It is believed that 25 of these F-15 aircrafts has nuclear capability. The range of the F-15 is 3500 km and F-16 is 1600 km, making F-16 most likely to be used in Palestine and Iran, if it is ever used.
The origin of development of Jericho-1 missile technology of Israel goes back to 1960s with the help of a France company Dassault Aviation to produce surface to surface ballistic missile. Jericho-2 was developed in 1990s with the help of South Africa. Whereas, Jericho-3 was developed in 2008 and it entered into the Israeli Defence Forces in 2011. Israel tested 'Rocket Propulsion System' in 2013, which is believed to be related to Jericho-3 Missile. It is known that the Jericho missiles are capable of nuclear payload but the number of these missiles possessed by Israel cannot be confirmed. It is believed that up to 100 of these missiles could be nuclear capable. The approximate range of Jericho-1 is considered to be up to 5000 km, Jericho-2 is 850 km and Jericho-3 is 4000 km. With the help of these missiles Israel will not only be able to threaten Palestine but also any countries supporting Palestine like Pakistan or any Middle East nation.
Israel took help to produce submarines from the German company, Howaldtswerke-Deutsche Werft (HDW). Israel has five Dolphin class submarines, none of them are known to be nuclear powered submarines. Israel's submarines are considered to be nuclear capable with slight modification. German Ministry of Defence authority Hans Rühle assumed Israel intended to equip the submarines with cruise missiles with nuclear payload. However, there is no official evidence. In recent years, Israel has purchased new Dragon submarine from Germany which is said to carry nuclear missile with Vertical Launching System (VLS). But has Israel equipping it with nuclear missile cannot be confirmed.
Impact on proliferation in Middle East
Israel and Palestine have been on a war for several decades, but the last month has been cruellest of them all. Since Hamas launched a brutal attack on Israel on October 07, 2023 leading to Israel launching a full-fledged war on the Gaza Strip, many conventional missiles has been used from both sides. President of United States, Joe Biden has promised to help Israeli Defence Forces in its fight against Hamas. United States has since sending arms to the crisis zone andhas moved two aircraft carrier groups and a Ohio-class nuclear submarine in close vicinity of Israel. Israel increased its bombing capabilities on the Gaza strip and has been bombing areas occupied by the Palestinians.
Just a couple of days after the Hamas attack, Israeli heritage minister Amihai Eliyahu has suggested the 'Doomsday' option and the use of Jericho missile. This puts the nuclear weapon in the lime light. Although, Israel has neither agreed nor declined the of possession nuclear weapon, but an Israeli official suggesting nuclear option, appeares to have confirmed the existence of weapon of mass destruction and that the Jericho missile has nuclear capability. Iranian Foreign Minister Hossein Amirabdollahian suggested that the UN Security Council and the International Atomic Energy Agency should take immediate action to prevent such a barbaric move by Israel.
It is assumed that Israel has nuclear or conventional weapon in order to deter Arab countries and terrorist organizations. This is because of the 'Begin Doctrine', which gives Israel the right to own its own nuclear weapons. This doctrine has fuelled many conflicts between Israel and Arab countries. This could lead in the development of nuclear weapons in the Middle Eastern countries such as Iran and many more. Thus, this doctrine could be considered to continue fuelling many conflicts in the upcoming future.
The biggest impact of the 2023 Israel-Palestine war is the end of Two-State Solution. It is close to impossible to revive the two-state solution because the quantity of people getting killed or getting relocated from their household in Palestine is excessively high that there might be no Palestinians left to make two States. However, it is very less likely that Israel will ever use a nuclear weapon on Gaza, they say "it's too close". By using the Weapon of Mass Destruction Israel's victory is confirmed but it will have two effect. Either it will spread radiation all over the country and the bordering country or they use law yield nuclear missile, the occupied land will be highly contaminated with radiation for years to come. In either case Gaza will be left uninhabitable. Palestine on the other hand has signed, ratified and endorsed the 'Treaty on the Prohibition of Nuclear Weapons' (TPNW) on September 20, 2017. Palestine is one of the 50 states who has enforced this peaceful treaty since January 22, 2021.
The Israeli army is much stronger than any of the neighbouring countries who might possess a threat. For instance, Jordan, Egypt, Lebanon, Syria are all either having limited military power or suffering economically. Many of these nations are trying to provide aid to Palestinians by different means such as food, water and medicine. Iran might be the only nation to possess series threat to Israel because of its resent nuclear development. Although, Iran is trying to help Palestine, they have not declared full scale war against Israel. On the other, Yamen is the only country that has officially declared war against the Israel to help Palestine, but they do not possess nuclear capabilities.
If Israel ever resort to use of nuclear missiles on Palestine, they will lose the image of a nation fighting against a terrorist organisation. All the neighbouring countries will oppose and the entire Middle East could be at war with Israel. Israel might even get nuclear threat from countries like China, Russia and Pakistan. Many countries such as Iran might accelerate their nuclear program to prepare for the war against Israel or to deter from any nuclear threats. This will force leading global power like United States to intervene and to prevent possible nuclear war.
Conclusion
Israeli nuclear monopoly in the Middle East could have a huge impact on Proliferation in the Middle East, promoting missile development program including nuclear missiles. How long this conflict will last cannot be confirmed, but the probabilities of Weapon of Mass Destruction being used in the Palestine or any countries in the Middle East is little to zero. Since Palestine has ratified the treaty on prohibition of nuclear weapon, Hamas will not use nuclear missile but they are armed with conventional missile. However, in the last month they have suffered big loss in the number of Hamas militants. Even if somehow Gaza wins the war, very less population of Gazans will be left with less economic and destroyed infrastructure and more area of the Gaza will be captured by Israel. Arab countries might not have nuclear capabilities but America does and it could deteriorate the relation between America and Arab world. Because victory cannot be achieved until unless America stops supporting Israel.
Peace could be achieved if Israel gives the responsibility of safeguard of their nuclear program to International Atomic Energy Agency (IAEA) and United Nations Security council (UNSC). Other than that, diplomatic efforts can be put upon Israel to sign peace treaty such as 'Treaty on Prohibition of Nuclear Weapon' or 'Nuclear Non-Proliferation Treaty' (NPT). These options have the potential to stop the nuclear escalation and the killings on both sides.