By: Hitti Chopra, GSDN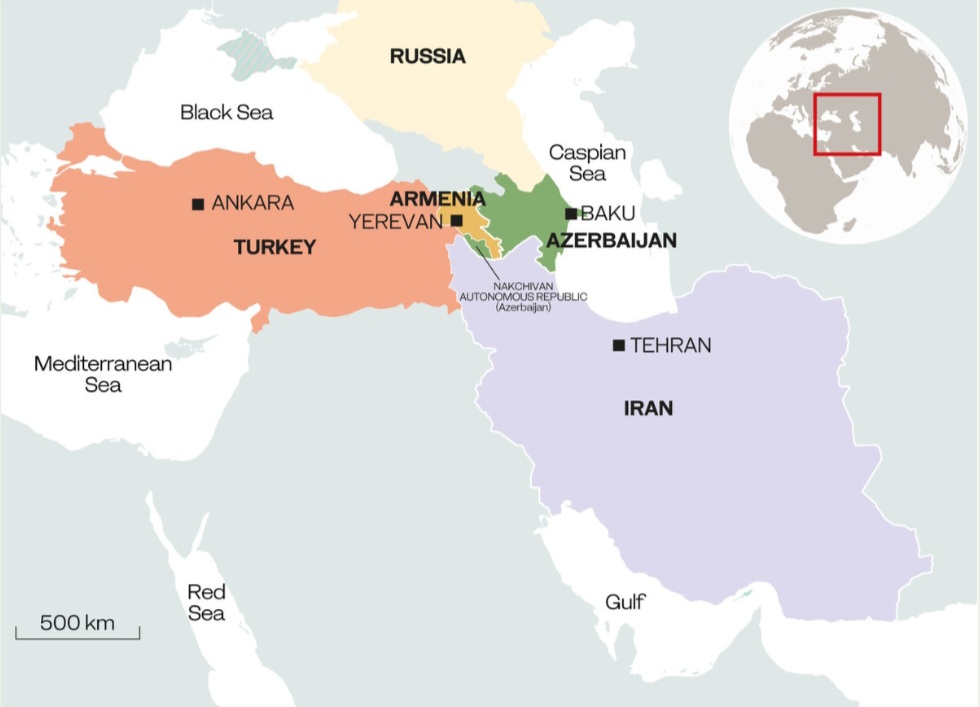 Azerbaijan and Iran, major Shiite Muslim countries, witnessed the worst escalation in their ties when on January 27, 2023 the Azerbaijani embassy in Tehran was attacked, killing the head of the embassy security service and injuring two guards.
According to Al-Jazeera, closed circuit television footage released by Iran showed the attacker hurriedly arriving at the scene with his car and crashing into another vehicle parked in front of the embassy. After exiting the car with the rifle in hand, he passes an unarmed Iranian guard sitting in a booth and enters the embassy shooting. While shooting at two Azerbaijani guards, a third tackles him, eventually disarming the attacker. Azeribaijan President Ilham Aliyev had condemned the incident as a "terrorist act" whereas top officials in Iran have denied it as a "terrorist" act as it was carried out with personal motivations. Azerbaijan suspended its diplomatic mission and also warned its citizens against visiting Iran.
Similar incidents have been observed in the past when diplomatic missions of the countries (the United Kingdom embassy in 2011 and the Saudi Arabian embassy in 2016) which shared periods of strained relationships with the country have been attacked in Tehran. This has led to further deterioration in relations between Iran and Azerbaijan.
Baku, a strict secular republic nation, detesst Iran's theocratic attitude. Iran is a home to a sizable Azeri minority and has always accused Baku of fanning the flames of separatist sentiment in the country. The relations between the two nations have been rocky since the 2020 war between Azerbaijan and Armenia. Azerbaijan officials have blamed Iran for backing Armenia in the conflict over Azerbaijan's Nagorno-Karabakh region. In addition, relations have from time to time flared in the past three decades over Azerbaijan's friendly relations with Israel.
The 44-day war between Azerbaijan and Armenia in 2020, gave Baku a decisive victory over Armenia. Azerbaijan reclaimed districts which border Iran and have been under control of Armenians since 1990s. Azerbaijan's heavy taxation policy on Iranian trucks carrying good to Armenia, regaining a critical trade route linking Iran and Armenia has led to disruption in Iranian trade and access to Armenian market which has been condemned by Tehran.
The close proximity between Baku and Tel Aviv further irks Tehran. Israel has always been a national security threat to Iran. The decade long policy of Azerbaijan of not having a diplomatic mission in Jewish state was permutated when Baku approved the opening of the Israel embassy in Azerbaijan. According to Stockholm International Peace Research Institute, Israel is the second largest arms supplier to Azerbaijan from 2011 to 2020. Iran has accused Israel for its attacks on nuclear facilities and has always considered the latter as its arch nemesis.
The straining relationship between Iran and Azerbaijan have brought the bilateral relations to a new low and can put regional projects at stake. This poses complications for the larger Caucasus region, which is important to Russia, Turkey and the West.