By: Aqib Rehman, Research Analyst, GSDN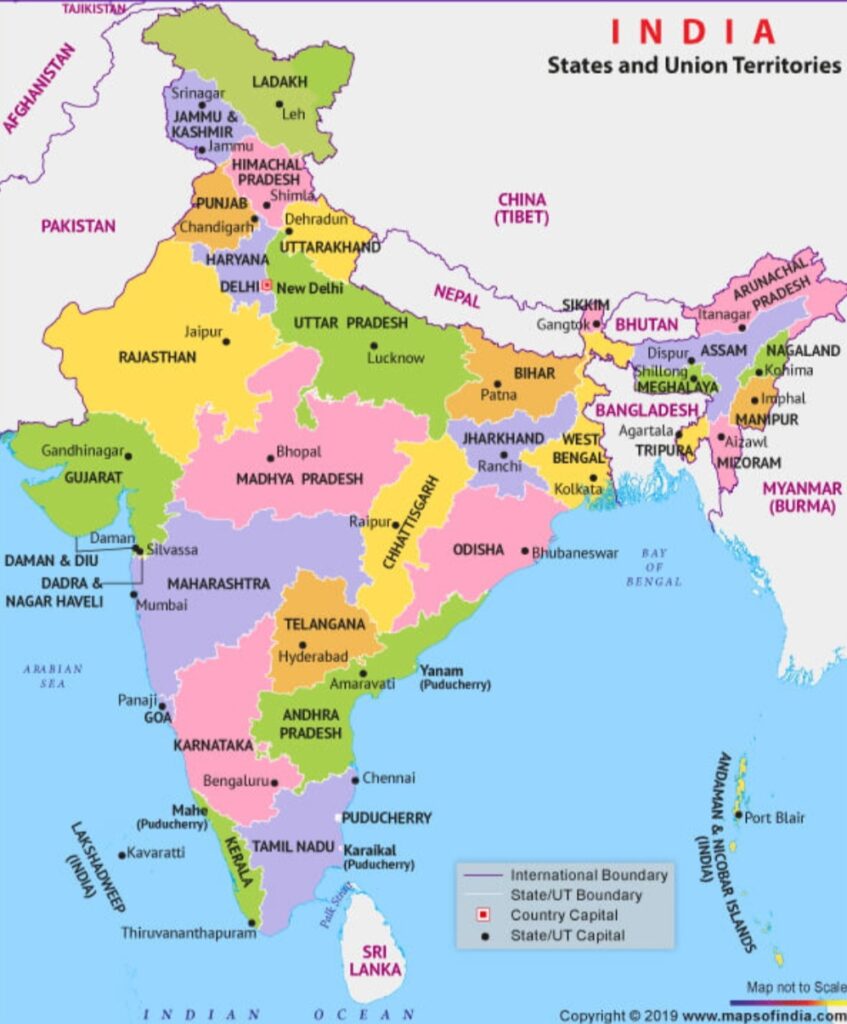 Although India achieved independence in 1947, it had longstanding connections with the world dating back to ancient times. Its ancient civilization established significant ties with other civilizations such as Greece and Egypt. However, it truly embarked on its independent journey following its liberation from British rule in 1947, which unfortunately resulted in the division of the country into two parts.
Consequently, India had to confront numerous challenges in adapting to the realities of the post-World War II global order. The war had ushered in a new world order that divided the world into two blocs. Therefore, the foremost challenge for Indian foreign policy makers was to determine which bloc India should align with.
However, the foreign policy makers chose otherwise and strictly adhered to the policy of non-alignment by refusing to join either block. Learning from its experiences, India wanted to remain aloof from the world powers to protect its hard-earned independence. But after the end of the Cold War, India carefully adjusted its foreign policy and built close links with the United States of America and other powers of the world. It had developed close relations with China during the early 1950s eventually sabotaged by the Chinese aggression of 1962. During the India Pakistan conflict of 1971 India signed a friendship treaty with the then Union of Soviet Socialist Republic (USSR) which led to a close cooperation between the two countries and was not disturbed by the collapse of USSR.
While the position of India in the international structure remains formidable, it is also faced with numerous challenges from its neighbours like China and Pakistan. To counter the threats posed by them, New Delhi has adopted an independent foreign policy carefully designed without irking any great powers.
To understand the independence of India's foreign policy this paper uses the case study method and delves with the cases of Quad and Shanghai Cooperation Organisation (SCO) and the Indian participation. The main argument of this paper is that India's foreign policy is realistic and is formulated keeping its national interests in view. The membership of Quad and SCO enhance its independence.
In order to understand India's foreign policy and its independence, we first need to look what does independence of foreign policy entail.
Each state formulates foreign policy to meet specific goals in the international field. That policy is not solely dependent on the wishes and consciences of policy makers. Foreign policy leaders have to decide on foreign policy issues after many considerations. They are influenced by many elements. The factors that influence foreign policy are called the determinants of foreign policy.
To a large extent these factors determine whether the foreign policy of a country is independent or it is constrained by any external factors.
Indian foreign policy has been shaped by the civilisational history of more than 3500 years, the independence struggle of 200 years, the ideology of its founding fathers, geography, economy and the contemporary conditions.
In the ancient times India was in contact with other civilizations of the world. It remained nonaligned during the cold war, sort close relationship with both the superpowers of the cold war and "crossed the Rubicon" at the turn of the 21st century.
India and the Quad
The 4 democratic countries vis India, Japan, Australia and the United States having found a common ground in the form of democracy came together to form this grouping in order to support the common interest of unhindered maritime trade and security. The group of these countries aims to ensure that the Indo-Pacific region remains free from any security issue, open for all the regional players and all the countries in this region prosper. The idea of Quad was first mooted by late Prime Minister of Japan Shinzo Abe in 2007. However, the idea could not be materialized as Australia pulled out of it, apparently due to Chinese pressure. Finally in 2017, India, Australia, the US and Japan, came together and formed this "quadrilateral" coalition.
The primary objectives of this group included security of the maritime trade, quick response to natural calamities, coercion free Indo-pacific and long-time cooperation on tackling climate change in the region.
Why did India join Quad
As already stated, quad is an important alliance between the four countries who share common vision of countering challenges in this region. In addition to this, India had some specific reasons to join this group. The first among them was the concerns about China's increasing assertiveness in the Indo-Pacific region, particularly in the South China Sea. By joining the Quad, India aims to enhance its security and deter any potential threats to its national interests. India wanted to pose a collective challenge to the threatening rise of China.
Secondly, The Indo-Pacific region is vital for India's economic growth and trade. The Quad members, collectively representing significant economic powerhouses, can collaborate to promote free trade, open markets, and ensure a rules-based order that benefits all member countries.
Thirdly, Quad is an important group to counter global challenge of terrorism. The Quad members share concerns about terrorism and maritime security threats. By joining the Quad, India cooperates with like-minded countries in intelligence-sharing, joint military exercises, and capacity-building initiatives to combat terrorism and ensure freedom of navigation in the region. The fourth reason is precisely to assert its independence of its foreign policy choices. India sees the Quad as an opportunity to deepen its engagement with other regional powers, aligning its strategic interests with those of the United States, Japan, and Australia. The forum provides a platform for dialogue, coordination, and cooperation on various regional and global issues. The fourth point highlights India's interest in strengthening regional cooperation through its participation in the Quad. By being a member of this group, India identifies itself with the other countries of this region who believe in the principles of free, open, and inclusive Indo-Pacific region. Through this alliance India seeks to promote the vision of freedom of navigation, respect for territorial integrity, and peaceful resolution of disputes in this region and the world. Secondly this alliance helps India in deepening its diplomatic engagement in this region. It regularly coordinates with the partners including the discussions on regional and global issues of common interest through high-level meetings, consultations, and strategic discussions. Quad also helps India in multilateral diplomacy. It enhances its diplomatic power by engaging with several countries. It participates in different joint military exercises with other nations, participates in multilateral forums like the ASEAN Defense Ministers' Meeting Plus (ADMM-Plus), and collaborates on various infrastructure and development projects. These initiatives demonstrate the Quad's commitment to inclusive regional cooperation.
India and the SCO
India became a full member of the Shanghai Cooperation Organization (SCO) on June 9, 2017. The decision to join the SCO was primarily motivated by several factors like regional engagement, economic opportunities, counterterrorism cooperation and geopolitical considerations.
On one side India is cooperating with the countries like USA and Japan through the Quad, while on the other side it is a full-fledged member of SCO where it cooperates with the countries like China and Russia. The geopolitics behind joining SCO was seen as an opportunity for India to expand its diplomatic presence in the region and balance its relationships with major powers. The SCO serves as a platform for dialogue and engagement with countries like China, Russia, and Central Asian nations, allowing India to assert its interests and contribute to shaping regional dynamics. The first important reason of participating in the SCO is about balancing the relationship between the great powers. Quad, which is dominated by USA is facing a mounting challenge from the rising China. India has a close relationship with the US and China is its neighbour. Therefore, it neither wants to shift away from the US nor irk China.
To balance the relationship, India joined the multilateral organisation of SCO. The SCO provides India with an opportunity to expand its diplomatic presence and influence in the Eurasian region. As a member, India actively participates in SCO meetings, summits, and working groups, contributes to discussions on various regional issues. This enables India to assert its interests, promote its foreign policy priorities, and enhance its regional profile. In addition to this, China is slowly gaining favours in the South Asian region. In order to keep that in check India needs to counter its influence in this region. SCO not only helps in engaging with China and Russia, but it also enables India to foster its diplomatic ties with other Central Asian countries. The SCO provides India with greater access to the resources, markets, and economic opportunities in Central Asia. India's interest in energy cooperation, trade diversification, and connectivity projects aligns with the potential offered by the region. By participating in SCO initiatives and mechanisms, India can deepen economic engagement with Central Asian countries and tap into the region's potential for trade and investment.
Independent nature of India's foreign policy
India's foreign policy is generally guided by its national interests, strategic objectives, and the principles of non-alignment and strategic autonomy. India has pursued an independent foreign policy since its independence in 1947. While India maintains relationships with various countries and engages in regional and international forums, it strives to maintain its independence and make decisions that it deems best for its own national interests.
Multi-alignment is one of the basic features of India's modern foreign policy. It strongly opposes any sort of arm-twisting by any power. It engages with a range of countries by focusing on its own national interests. India maintains strategic partnerships and engages in dialogue with various countries, including the United States, Russia, China, Japan, and European nations, among others. This approach allows India to diversify its relationships and leverage different opportunities. Take for example one member country of Quad and SCO respectively. India has a strategic relationship with the United States of America and Russia. These relations are time-tested and are based on shared interests and mutual cooperation. While both U.S. and Russia are in a conflicting relationship with one another, India enjoys sweet relations with them by focusing on its own national interests.
India is committed to the strategic autonomy of its foreign policy. This means it believes in not closely aligning with any particular country or bloc such that its national interests are compromised. This approach helps it in making its own assessment of the international situations and take decisions based on its own understanding. As analysed in the Quad and SCO, it can be argued that India engages with diverse countries to advance its own interests. This approach also helps in managing potential differences. India places a high value on its sovereignty and independence in decision-making. It aims to protect and promote its national interests while respecting the sovereignty of other nations. India's pursuit of strategic autonomy enables it to maintain control over its own destiny, set its foreign policy priorities, and navigate international affairs in a manner that aligns with its national values and aspirations.
Balancing the relationship between Quad and SCO
India while enjoying close relations with diverse countries needs to walk a tightrope to balance its relations with Quad and SCO. Till now India has been successful in managing this situation. India firstly focuses on diverse objectives of Quad and SCO. Both the groupings have varying objectives. Quad focuses on regional security, maritime cooperation, and promoting a free and open Indo-Pacific, while SCO aims to enhance regional connectivity, engagement on counterterrorism, and economic cooperation. India cooperates with both groups realising their different objectives and opportunities they offer. Secondly, India carefully analyses its engagement with both Quad and SCO by ensuring that it does not become dependent on any of the group. It makes sure its national interests are not compromised while participating in these groups. Thirdly India actively engages with both the Quad and the SCO, seeking areas of cooperation and convergence.
In the Quad, India collaborates with like-minded countries to enhance regional security, maritime domain awareness, and infrastructure development. In the SCO, India participates in various mechanisms to contribute to regional connectivity, counterterrorism efforts, and economic cooperation. By engaging with both groups, India can leverage the strengths and opportunities presented by each forum. Fourthly, present age is the age of connectivity. For India both Quad and SCO are important to enhance its connectivity with both central Asian and the Indo-Pacific region. Quad and SCO provide India with the opportunity to connect with both the regions of the world.
Conclusion
Engagement with the Quad and the SCO demonstrates India's flexibility and pragmatism in foreign policy. India assesses the opportunities and challenges presented by these groups and engages with them based on its own interests and the evolving geopolitical dynamics. This approach allows India to adapt to changing circumstances, pursue its national priorities, and maintain its independence in decision-making. The participation in such opposing groups and diverse countries reflects India's growing independence in its foreign policy choices. It cooperates with Quad and SCO to foster its own economic, strategic, geopolitical and other national interests. Therefore, it is safe to conclude that Indian foreign policy is independent and is clearly visible through its participation in the groups like the Quad and the SCO.