By: Barsha Hazarika, Research Analyst, GSDN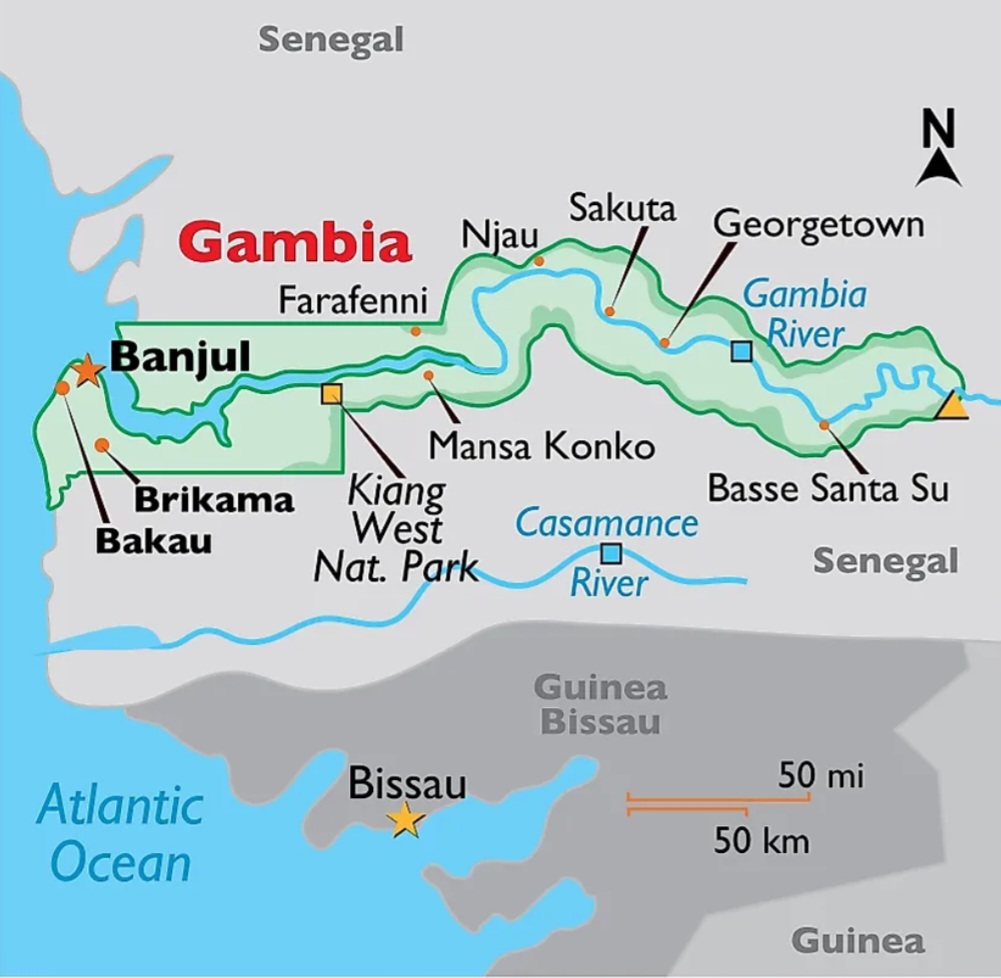 On December 21, 2022 the Government of Gambia Spokesman and Presidential Adviser issued a statement stating that a coup attempt had been foiled, and some suspects were detained.
It is unknown who was behind the attempt to overthrow President Adama Barrow, who was re-elected to a second term last year.
There had been no reports of gunshots and no evidence that loyalist forces have been dispatched to secure vital areas. On the other hand, the official statement stated that military reservists had been placed on standby. "Based on intelligence reports some soldiers of the Gambian Army were plotting to overthrow the democratically elected government," the government spokesman added.
According to the 1946-2018 global database of coups, The Gambia had one successful coup and six unsuccessful or alleged coup attempts between 1994 and 2016, as well as the instability and interruptions they caused to the national development agenda. Since the Barrow administration took office in 2017, The Gambia has experienced two coup attempts.
Background
The Gambia is a largely stable country in West Africa popular with tourists due to its beaches and wildlife. Banjul, the capital, seems calm, and life goes on as usual. However, Gambians are once again engrossed in heated debates about yet another claimed coup attempt in the country. For a country that is the smallest on the African continent and one of the poorest in the world, The Gambia has had its fair share of upheavals from coups, whether successful or not.
In February 1982 the Senegambia Confederation was formed as a result of an abortive coup attempt in The Gambia in 1981, which was put down by Senegalese forces. The confederation, however, disbanded in 1989. The Ministry of Defence was established in 1982, and the Gambia Armed Forces Act was passed in 1985, and the Gambia National Army (GNA) was created.
On July 22, 1994 troops led by Lieutenant Yahya Jammeh executed a bloodless coup against President Sir Dawda Kairaba Jawara's government, effectively terminating Africa's longest-surviving democracy at that moment. The coupists used "rampant corruption and the retrogressive nature of the country" as justifications for destabilizing the government.
Jammeh's rule finally ended in 2017, following his defeat at the hands of a coalition of opposition groups led by Adama Barrow in the December 2016 presidential elections. Barrow's victory was widely regarded as a victory for democracy, yet there has been growing dissatisfaction with his administration for failing to address poverty and rising living costs.
The Coup Attempt of December 2022
There was no word on whether the coup attempt was tied to the former administration. Eight ex-soldiers plotted to depose Barrow a year after he took power, led by one of Jammeh's former military advisers. They were sentenced to jail in 2019 on treason and conspiracy charges they denied. Although Barrow's government has released limited information, there is no indication of what prompted the coup attempt.
According to David Aworawo, Professor of international relations and strategic studies at Nigeria's University of Lagos, The Gambia has a history of coups as well. Yahya Jammeh, Barrow's predecessor, seized power in a bloodless coup attempt until being deposed in 2016.
Jammeh, who lives in exile in Equatorial Guinea, continues to play a role in the Gambia's polarised politics. According to Aworawo, Barrow's lack of trust in the military may have played a factor in the coup attempt. When Barrow entered office in 2017, some top officers resigned from the Gambia National Army, creating an uneasy relationship between the president and the military forces.
"In 2017, he was sworn in in Senegal, not even in Gambia itself," Aworawo explained in an interview with Nigerian television channel TVC television. "Since then, elements in the military loyal to Yahya Jammeh have been attempting to cause problems for Barrow."
Barrow's personal security is provided by Senegalese troops. According to the BBC, Nigerian and Ghanaian military guard the Gambia's international airport and key seaport. As a result, he is unpopular among many Gambians, who feel he has undermined the country's sovereignty by relying on foreign troops.
Although the deployment of foreign Soldiers has been unpopular, Barrow was easily re-elected in December 2021, receiving 53% of the votes.
The attempted coup stunned Gambian political expert Sait Matty Jaw, executive director of the Banjul-based Centre for Research and Policy Development, who said some have questioned its legitimacy.
According to Jaw, Barrow's administration is dealing with a number of difficult difficulties. "People are frustrated by the slow progress made since Jammeh's departure, and there is still no constitution," he told the Voice of America. "Many people blame this incident on a lack of reform in the security sector."
According to Jaw, Gambians are concerned about the country's economy but oppose military intervention in domestic politics. "There are so many other issues that people are worried about," he explained. "We also know from survey data that the majority of Gambians are anti-coup."
Poverty, according to Aworawo, has fuelled discontent in The Gambia. "Inflation is still very high in the country, economic problems are pervasive, and the quality of life is still very low," he stated. "There have been protests. As a result, optimism has given way to pessimism, and hope has given way to despair."
Mr. Barrow also fell out of favour after splitting from the United Democratic Party (UDP), which pushed him to power in 2016, and forming the National People's Party (NPP) to run in last year's election. His popularity sank even further when he revealed his alliance with Mr. Jammeh's old party in what was seen as an attempt to boost his chances of securing a second term.
Geopolitical Implications
Aworawo, suggested that it might be a case of copying recent coups in the region. Over the last two years, West Africa has seen a surge in coups and coup attempts. Military juntas took power in Burkina Faso, Guinea, and Mali, and the government of Guinea-Bissau averted a coup attempt in February 2022. And then the most recent coup in Gabon might also be a consequence of these cycle of coup.
These events highlight two of the most visible realities of contemporary African Politics:
(1) African democratic institutions are not yet strongly consolidated and
(2) Military interventions continue to be a significant hindrance to the democratic process in Africa
The alleged coup attempt was swiftly and unequivocally criticised by the National Human Rights Commission, ECOWAS, and civil society organisations, with some urging the government to guarantee that those imprisoned receive due process. In response to these calls, the government announced on December 27, 2022 the formation of an 11-member "investigative panel" to study and report on the coup attempt.
The latest coup attempt was condemned by West and Central African leaders, who are concerned about the region's stability. There has been no word about who was responsible or whether it was connected to the former leadership.
Since 2020, West Africa has seen six successful military coups, indicating a reversal of democracy in a region that had previously been making progress in shedding its "coup belt" moniker.
Kemesit Effiong is a Nigerian geopolitical analyst. He blames some countries' military efforts or takeovers on corruption, economic incompetence, and the misuse of authority across the continent. "If you look at the age profile of many coup plotters in places like Mali, Guinea Bissau, Burkina Faso, and right across the region, they are relatively young people, and for many of them, democracy has not delivered, and they are channelling this popular frustration with a democratic ruling in the region into violence and military takeovers," Effiong said.
Jaw believes that the Gambia's administration must change the country's political, economic, and security structures in order to prevent the military from seizing power. "One way of ensuring that things like this do not happen is to ensure that there are adequate reforms that will address the gaps, the lacuna, but also for the government to be more transparent with the population, ensuring that the governance challenges in this country are addressed," Jaw explained.
Conclusion
Military coups in Africa have been a constant concern since the winds of change swept across the continent in the late 1950s. The earlier coups took place following independence. In the decade of the 1970s, the pervasiveness of military coups in Africa was such that over half of the countries on the continent were under the tutelage of military dictatorships.
However, during the 1990s, in West Africa alone, we witnessed the annulment of a democratic election in Nigeria, the overthrow of the democratically elected government of Sierra Leone, and the disposing of one of the longest almost three-decade democratically elected government in the Gambia.
In a small country like The Gambia, which has a deficit in economic or geo-political weight, the answers to the threat of military coups must be found internally. The relatively small size of The Gambia's population and land size have always been a disadvantage. The country is not enriched with significant natural resources. It is not sufficiently geo-strategically pivotal to any of her neighbours (except for Senegal) to warrant outside intervention in a coup. This was demonstrated by the refusal of the United States government to assist in stopping the coup, despite pleas from President Jawara. If the US had deemed it a national interest to intervene, it is highly conceivable that the coup would not have occurred.