By: Sanoop Suresh, Research Analyst, GSDN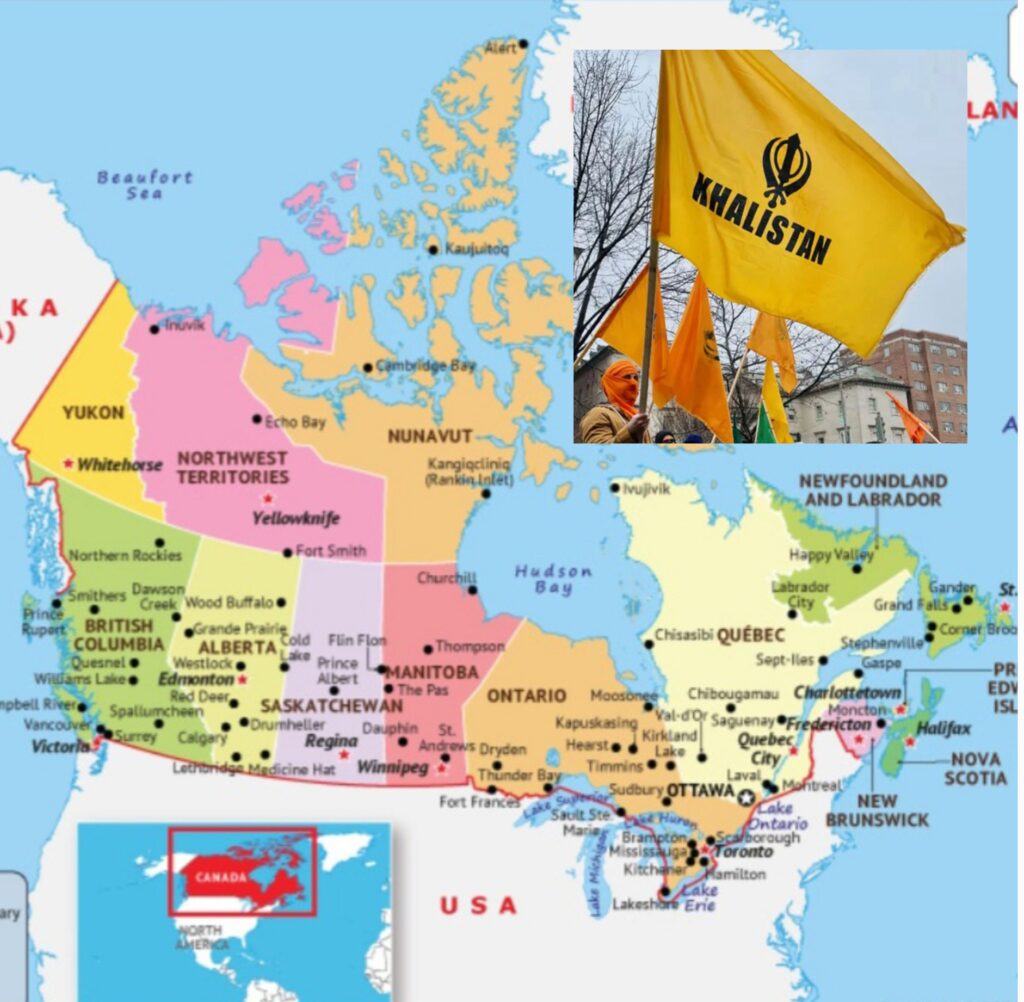 Long-standing bilateral ties between Canada and India are based on a commitment to democratic pluralism, solid and interpersonal relations, and other shared values. One of the most significant populations of people of Indian origin resides in Canada, where 4% of the population is of Indian descent. Recent estimates show India as Canada's tenth-largest trading partner; the two countries' goods commerce totalled about US$12 billion in 2022, a significant 57% rise from the year before. Despite the expectation of a friendly relationship based on these facts and figures, some tensions exist between India and Canada. The tension between India and Canada is mainly caused by how the country tolerates anti-Indian views among emigrated Indians and offers a safe haven for Indian expatriates, particularly those who support Khalistan. Although there are no longer any pro-Khalistan Sikhs in mainstream India, Canada has the second-largest Sikh population after India, making it a fertile ground for separatist anti-Indian activities. Khalistan supporters in Canada supported the movement in India financially and morally throughout the 1980s as it rose to prominence, acting as a tool for foreign powers keen on an unstable India. There has never been a smooth connection between the Sikh population in Canada and their home country; the situation worsened during the Justin Trudeau administration, and Canada has recently seen a surge in pro-Khalistan and anti-India actions.
The Background of Pro-Khalistan Movement in Canada
Historical records show that the Vessel RMS Empress of India brought the first group of Sikh immigrants from India to Canada in 1897. Despite Canada's stringent emigration rules in the early 20th century, the Sikh community managed to become a notable ethnic group in Canada over a period of 125 years and rose to the top in all spheres of social, financial, and political life. In Punjab and Canada, pro-Khalistan sentiments were expanding at the same time. The Khalistan movement in Punjab was spurred by the failure of the Green Revolution, the blending of politics and religion, and the failure of the administration. However, in Canada, the desire for a separate state for Sikhs was fostered by the common sense of culture and homeland across national boundaries. The terrorist attack on Air India flight IC-182, which killed 329 people and demonstrated the rise of pro-Khalistan terrorism in Canada, was the result of Operation Bluestar, which was preceded by the assassination of Indira Gandhi and the subsequent Anti-Sikh riot.
However, it is claimed that the Pakistani ISI aided to fuel pro-Khalistan sentiments in Canada in order to undermine India's stability and escape taking responsibility for it as the pro-Khalistan forces are not based there. Additionally, there are suspicions that the ISI was able to collect money from few wealthy Sikh population residing in Canada and use it to finance their campaigns. According to reports, in 1980's and 1990's the Pakistan ISI also assisted drug cartels in channelling drugs from Afghanistan, the United States, and Latin America with the aid of Indian fugitives who found refuge in Canada and migrant Pakistani citizens to finance the separatist movement in Indian Punjab. In contrast to their Indian counterparts, certain Indian emigrants in Canada maintained their pro-Khalistan sympathies due to a combination of all these factors, a higher representation in Canadian mainstream politics, and high numerical leverage.
Recent Developments
Since Justin Trudeau became the president of Canada, there has been a noticeable increase in separatist movements there. However, because Trudeau is the head of a minority government and is dependent on the New Democratic Party (NDP) which is led by Jagmeet Singh Dhaliwal, an alleged separatist whose visa was rejected by the Indian government in 2013, his administration is compelled to remain silent.
Numerous wrongdoers from India, including the recently killed separatist militant Harjeet Singh Nijjar, Arshdeep Singh Arsh, and Gurpatwant Singh Pannu, have a safe haven in Canada and are working against India as a result of the ineffective extradition laws of Canada. Certain members of the Sikh community in Canada assembled in Brampton on September 19, 2022 to promote a referendum that aims to separate them from India by founding a new nation. The referendum was organised by the Gurpatwant Singh Pannun-founded U.S. secessionist group 'Sikhs for Justice', who are said to have attracted 100,000 Canadian Sikhs to vote. It shows the popularity of secessionist sentiments among them.
The recent development among those who support Khalistan is the assassination of sectarian leader Hardeep Singh Nijjar, the leader of the militant group Khalistan Tiger Force (KTF). Two unknown gunmen shot and killed Nijjar on June 19, 2023 in the parking lot of a gurdwara in Surrey. This prompted outrage among Canadian Sikhs who support Khalistan as they suspect Nijjer was murdered with India's knowledge. After Avtar Singh Khanda and Paramjit Singh Panjwar, who both passed away in "mysterious circumstances" in the UK and Pakistan respectively, Mr. Nijjar is the third Khalistani sympathiser to have passed away abruptly in recent months. Nijjer's passing did cause a minor law and order problem in Canada when Nijjer's followers rallied against India and were met with counter protests by those who backed India.
Nevertheless, the law-and-order problems caused by pro-Khalistan criminals are not new in Canada. According to numerous accounts, anti-Indian and pro-Khalistan groups target Hindu temples, including the Lakshmi Narayana Temple, one of the largest and oldest in British Columbia, in an effort to create strife among communities. As the Khalistan radicals vandalised Mahatma Gandhi's statue in July, there was an increase in hate crimes in Canada. The Trudeau administration's unwillingness to stop these anti-Indian activities has caused the diplomatic rift between India and Canada to worsen.
Diplomatic Implications
The Sikh community in Canada is extremely influential, frequently holds key positions in governance, and accounts for a sizable portion of the voting population. This community is thought to support Trudeau's Liberal Party of Canada (LPC) in large numbers, giving it 13 MPs in contrast to four for the Conservative Party, the opposition party, and one for the NDP, which assisted Trudeau in forming a government. The Trudeau administration is constrained by all these electoral equations from taking decisive action against the anti-India groups, which the Indian government finds unpleasant. Through diplomatic channels, India has repeatedly voiced its concerns to the Trudeau administration about their tolerant approach to "terror" in the name of freedom of expression.
Due to the interdependence of trade and the fact that pro-Khalistan forces do not immediately threaten Indian security, these difficulties and worries frequently only take second place in relations between India and Canada. However, recently, the Indian government changed their approach to dealing with these issues in a more aggressive manner. India warned its citizens and students in Canada to use caution in light of the spike in crime and anti-Indian activities in the country on September 23, 2022. The statement also signalled India's disappointment that the perpetrators of these atrocities had not yet faced justice in Canada.
In retaliation, Canada issued a travel warning urging Canadians to avoid Gujarat, Punjab, and Rajasthan "due to the unpredictable security situation and presence of landmines". Furthermore, unless absolutely necessary, it suggests avoiding travel to Assam and Manipur "due to the risk of terrorism and insurgency". This diplomatic spat is a direct result of India and Canada's strained ties over Ottawa's passive response to anti-India, pro-Khalistan movements.
However, given the fast-expanding anti-Indian sentiment in Canada, it appears that there will be further diplomatic escalation in the near future with both the countries already expelling a diplomat of the other on September 19, 2023. No country, no matter how much trade there is, can accept that another country would serve as a breeding ground for a rival power. India and Canada must first build trust in order for cooperation, not just for financial gains, but also for a better tomorrow.