By: Devyani Wadera, Research Analyst, GSDN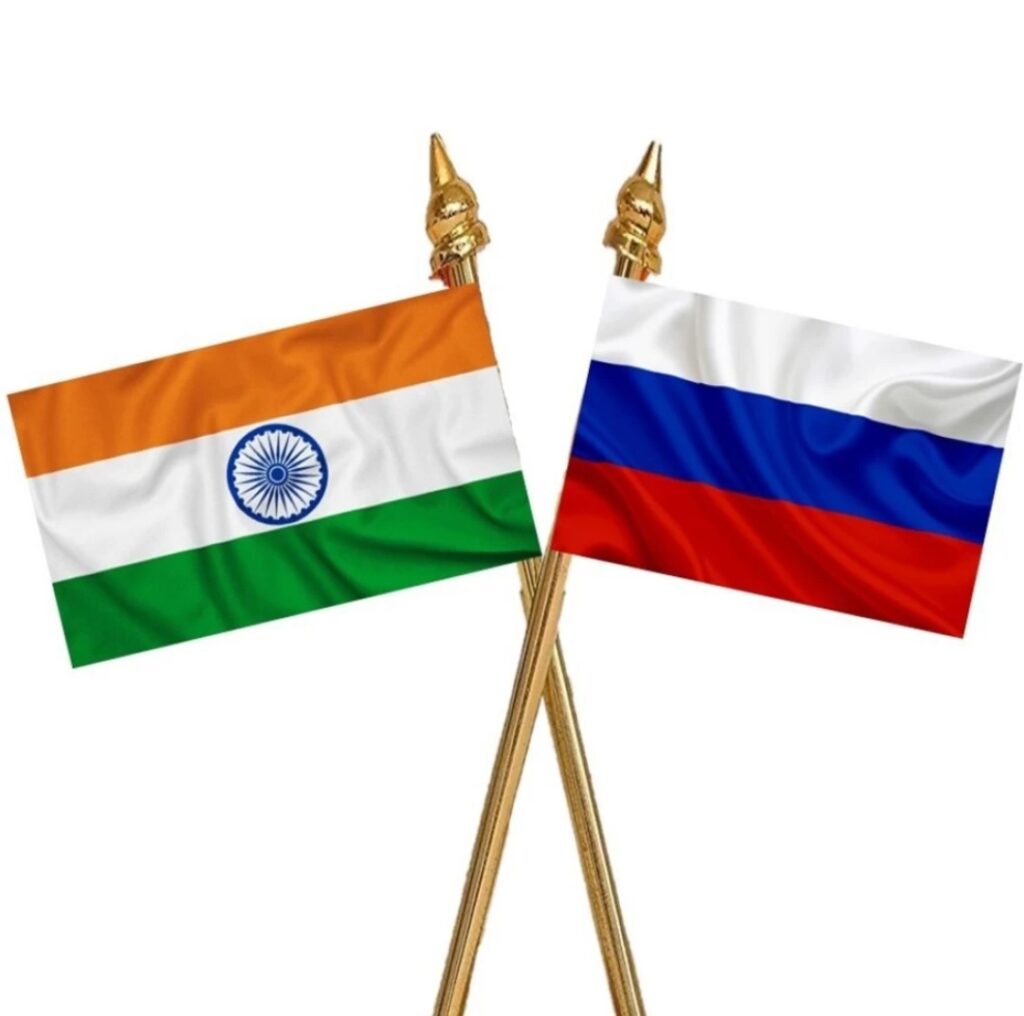 India-Russia bilateral ties have been an enduring affair, sustaining for more than 70 years now. The two countries have had a longstanding relationship grounded in strong military, political, and economic ties. This relationship has been based on cooperation, understanding, and respect. The Indo-Russia relationship can be characterized as time-tested with the two countries having a level of trust which has been unprecedented in the global arena. This partnership has been formed and strengthened due to multiple factors like similar political and strategic goals, collaboration in science and technology, extensive military-technical cooperation, and deep economic bonds formed between the two nations. In this article, we will attempt at shedding light on the well-established relationship between the two countries, and the trajectory of this partnership over the last few decades. We will also be delving deep into the different domains of cooperation which has helped in the sustenance and deepening of the bond. Lastly, the article will be talking about the ongoing Russia-Ukraine war and how it has impacted the bilateral relationship.
When India gained independence, it was also the inception of the cold war between the two superpowers and their military alliances. It was a state of geopolitical tension which had enveloped the whole world in its power struggle with each country picking sides and joining military alliances. India however chose the path of non-alignment which gave a chance to nations to not formally join any military blocs and have an independent political and military stance This policy was viewed with suspicion and confusion in the global arena. The west viewed India as too socialist in its outlook whereas the communist bloc led by Russia perceived India as a capitalist economy and state. In India also Russia was seen with suspicion as the word communism made people uncomfortable with the perception that India and Russia had different values and goals. The initial years can be best described as cold with both sides keeping each under scrutiny. It is only after the death of Stalin in 1953 that a cordial relationship started between the two countries as a new leadership emerged in Russia. Stalin had a negative view of Nehru and the Congress Party as they were seen as the instrument of British and capitalism. He had expressed his dismay for India's approach to international relations.
With changes set in motion to foster a closer relationship between the two states, Nehru visited the USSR in June 1955 and a return visit by Nikita Khrushchev, Communist Party General Secretary, and Prime Minister Nikolai Bulganin took place the same year in India. During Khrushchev's visit, he declared that USSR supported India's sovereignty over Kashmir. Even though India's resolve for not to join any military alliance proved to be strong and lasting, it did realize a need to counter the brewing friendship between the US and Pakistan. Pakistan had joined the Central Treaty Organization (CENTO, also known as the Baghdad Pact) and Southeast Asia Treaty Organization (SEATO). To counter the growing influence of the US in the south Asian region and the economic and military support being gained by Pakistan, the India-Russia relationship was vital. This relationship endured the cold war and remained a strong pillar till the very end of the Soviet Union. The USSR soon became and until its disintegration remained India's primary arms supplier even surpassing Britain which India had often turned to in the initial years of its independence. The Soviet arms were important to India as Pakistan was receiving military aid from the US as well as China. After 1964, the Soviet was the sole source of arms for all three services. Also, Soviet-designed tanks and aircraft were being produced in India under license. As much as 85% of the nation's force structure still comes from the Soviet Union, causing a heavy dependence on and need for spare parts and upgraded aircraft, missiles, and armour versions. In addition, the Soviet Union served as a training ground for numerous Indian military leaders.
There was economic cooperation witnessed in several sectors of the Indian economy. Through its technical aid and know-how, Moscow changed the face of the Indian public sector, an essential part of the Indian economy. Some big names which can be included are BHEL, ONGC, HEC, and Bokaro. Here, the rupee-rouble arrangement deal struck by the two countries really aided in expanding trade. The US which promoted private enterprise was not very keen on investing in India's state-run sector, resulting in more opportunities for the Soviet Union. Also, during the cold war, India's close economic and protectionist policies hindered foreign investment. Political relations between the two countries grew warmer with high-level delegations and political leadership becoming an annual affair. Additionally, there was a lot of cultural exchange between the two countries with Indian movies and culture being popular in the USSR. Indian movies and songs had become household names further creating a camaraderie between the two countries and their populations. In the international forum, Moscow came to India's need multiple times by vetoing the Kashmir issue at the United Security Council which saved India from the prying eyes of the west, mainly the US and UK who had a soft spot for Pakistan. India reciprocated by supporting USSR in Hungary in 1956, Czechoslovakia in 1968, and Afghanistan in 1978. During the 1962 Indian-Sino war, the Soviet Union handled the whole issue tactfully as it expressed regret over the clash between two of its allies and did not take any sides. This was accepted in India but did not go well down with China which was witnessing a downgrade in its relations with USSR since the latter's growing proximity with India. As India-Russia relations became more intimate there was distancing seen on the part of China.
The culmination of this friendship was the Treaty of Peace, Friendship, and Cooperation signed by the two countries. Moscow firmly stood by India in the 1971 Indo-Pak war and opposed the Pakistani-USA-China nexus. These relations continued to grow and remained special for the two nations for a long time. However, the disintegration of the USSR in 1991 led to a change in the international landscape where the USSR had lost its position and the US had emerged as the sole superpower. Even though Russia was the successor of the USSR it was a new entity altogether with different leaders and perceptions. Russia had emerged with a different attitude with Boris Yeltsin's pro-western policy orientation causing its relationship with India to take a backseat. In the meantime, India started to liberalize its economy and turned to the West for trade and investment. Both nations were preoccupied with home affairs while adjusting to a new global order. During this time, bilateral trade and economic cooperation slowed down, cultural exchanges stopped and there was a lack of warmth among the political leaders.
Yet, both Russia and India tried to mend fences. They ratified a Treaty of Friendship and Cooperation in 1993, and a Military-Technical Cooperation pact was signed the following year. After a brief period from 1990 to 1993 in which there was a steep decline in the number of arms shipments, India eventually became one of Russia's top importers of weaponry. In 2000, in order to get the relations between the two countries on track 'Declaration on India-Russia Strategic Partnership' was signed. With increased levels of collaboration in practically all sectors, including politics, security, defense, trade and economy, science & technology, culture, and people-to-people relationships, India-Russian relations have taken on a radically new character. The Strategic Partnership was upgraded to the status of "Special and Privileged Strategic Partnership" during the visit of the Russian President to India in December 2010. In order to guarantee ongoing communication and follow-up on collaboration initiatives, the Strategic Partnership has various formalized discussion structures operating at both the political and official levels.
The defense and security relations between the two countries have moved ahead of just a buyer-seller relationship and the two states are jointly involved in the research, development, and production of advanced defense technologies. The joint military programs between India and Russia include: – the Brahmos cruise missile program, the 5th generation fighter jet program, the Sukhoi Su-30MKI program, Ilyushin/HAL Tactical Transport Aircraft, and KA-226T twin-engine utility helicopters. Russia also assists the Indian Navy in its submarine programs. INS Vikramaditya operated by the Indian Navy is also a Russian production. India is dependent on Russia for its nuclear submarine program and many of the conventional submarines used by India are Russian by origin. Now looking at trade relations between the two countries, the bilateral trade has reached a 30 billion US dollar record in 2023 speaking of the growing relations. By 2025 the two countries intend on increasing the investment to 50 billion US dollars. In the peaceful use of nuclear energy, Russia is a strategic partner as it recognizes India as a responsible country with advanced technology. The Kudankulam Nuclear Power Plant (KKNPP) is being built in India with Russian cooperation. Also, both parties work together for peaceful uses of outer space, such as satellite launches, the GLONASS navigation system, and remote sensing. During the 19th Bilateral Summit, an Agreement was signed between ISRO and ROSCOSMOS on Joint Actions in the Field of Human Spaceflight Projects.
India and Russia have had a time-tested relationship in this multipolar world as both nations are forging new relationships with other key nations. Now, shedding some light on the contemporary circumstances of the Russia-Ukraine war and India's stance on it. India's balanced position with respect to its policy of multilateralism has met with sharp criticism from the west. India has avoided openly condemning the acts of Russia in Ukraine and has also abstained from voting in the UN general assembly and Human rights council that condemned Russian attacks. India's neutrality has led to the creation of a void between the US and itself. A lot of spectators have referred to this neutrality as a pro-Moscow position. This decision on India's part has been taken to safeguard national interests and preserve its friendship with Russia. This is done to ensure that Russia does not deepen its ties with China or Pakistan.
Also as discussed earlier, India is dependent on Moscow for its arms supply and therefore cannot afford to alienate Russia. Even though in the last two decades India has diversified its sellers, it still cannot cut ties with Russia as there are multiple strategic, technological, and political advantages of working with the country. Also, India cannot afford to go against Russia as It is not sure of the US as a loyal and sturdy partner and Russia has always been a constant and sturdy friend of the nation who has always come to India's aid. Following the outbreak of the Ukraine War and as a result of sanctions placed on Russia by the US and Europe, it began to offer discounted oil and chemical fertilizers to India, resulting in an increase in the volume of bilateral trade between India and Russia from $13 billion in 2021–2022 to $27 billion in 2022, making it the largest supplier of oil and fertiliser to India. India has received a lot of criticism from the west on purchasing oil from Russia at discounted rates however, the Indian government defended its trade by stating that it will source oil from where it is cheapest and does not feel any moral dilemma in the purchase. India refused to accept the price cap on oil imposed by the US on Russia. All these steps have been taken to protect national interests as India cannot anger Russia with whom it has had years of friendship.
Lastly, the India-Russia relationship has withstood the test of time, where both countries have supported each other on multiple fronts and have been able to sustain their friendship in the ever-changing world order.