By: Harshit Tokas, Research Analyst, GSDN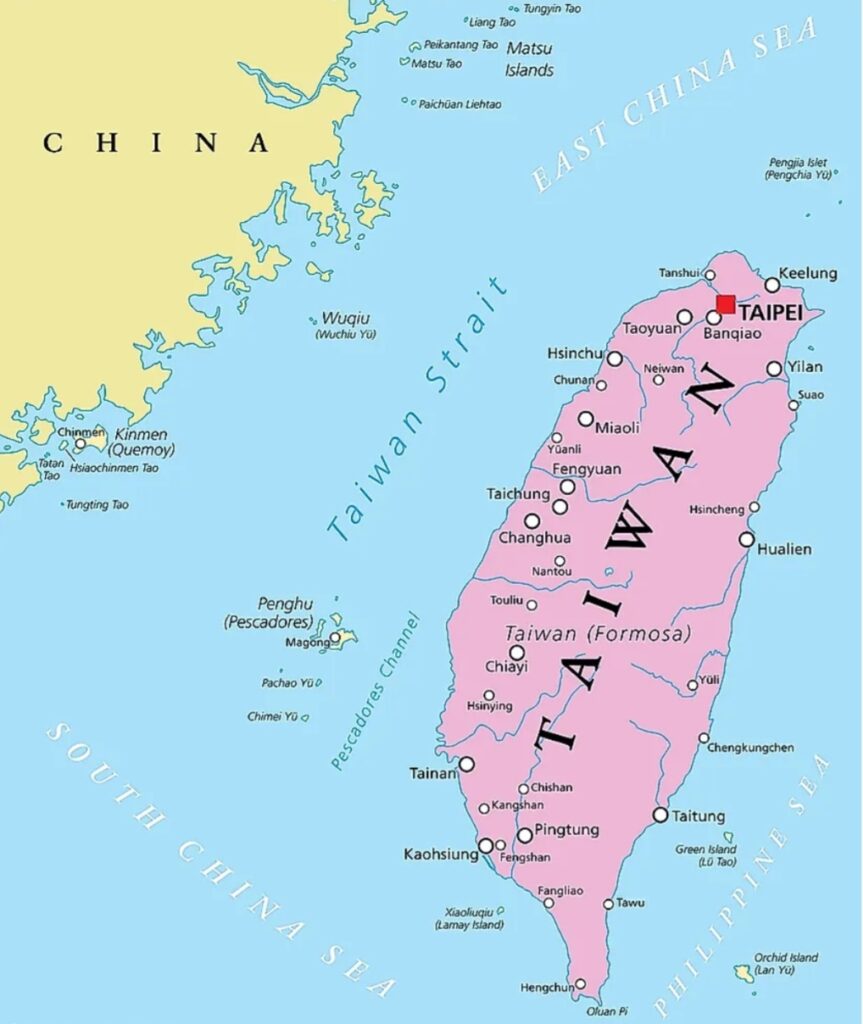 The complex and historically fraught relationship between the United States and Taiwan has been characterized by a strategy of strategic ambiguity aimed at maintaining regional stability. This approach, marked by deliberate vagueness in the USA's official stance on Taiwan's status, has allowed both countries to coexist without direct conflict. However, recent developments, particularly Chinese President Xi Jinping's assertive stance on Taiwan's reunification with the mainland, have elevated the Taiwan issue to the forefront of international politics, necessitating a more detailed analysis.
To understand the current dynamics, it is essential to delve into the historical context. Taiwan's status traces its roots to the tumultuous history of China in the early 20th century, marked by civil wars. Following these conflicts, the Chinese Communist Party (CCP) established the People's Republic of China (PRC), while the Nationalist government retreated to Taiwan. This led to the persistent "One China" policy, championed by the CCP, even as Taiwan's internal political landscape shifted, with the Democratic Progressive Party (DPP) taking a stance contrary to the 1992 Consensus.
The trajectory of US-Taiwan relations has evolved over time. During the Nixon administration, the U.S. established formal diplomatic relations with the PRC, severing official ties with Taiwan and terminating their mutual defense treaty. Nevertheless, the US maintained an unofficial relationship with Taiwan, continuing to supply defensive weaponry and support. Key agreements, such as the Taiwan Relations Act in 1979 and the Six Assurances in 1982, underscored America's commitment to Taiwan's security.
Recent years have witnessed mounting concerns and challenges regarding the Taiwan issue. China's assertive foreign policy, coupled with its military modernization efforts, has raised doubts about the sustainability of the US's strategic ambiguity approach. Three principal concerns emerge.
Firstly, is the Military Dominance. China's absorption of Taiwan would potentially enable it to project military dominance in the region, given Taiwan's strategic geographical position. Controlling Taiwan would enhance China's naval capabilities and bolster its anti-access/area-denial (AS/AD) capabilities, including the deployment of advanced missile systems.
Next is the Alliance Shifts: The failure to defend Taiwan could undermine the USA's system of regional alliances, potentially leading to shifts in regional dynamics. There is also a risk of nuclear proliferation if countries in the region perceive a reduced US commitment to their security.
Lastly is the Semiconductor Security. Taiwan plays a pivotal role in semiconductor manufacturing, posing a significant national security threat to the US Control over semiconductor technology is essential for both civilian and military applications, making Taiwan's status crucial to America's interests.
In response to these challenges, there is a proposal for a refined approach to strategic ambiguity, maintaining inherent ambiguity while incorporating specific tactical directives. This refined strategy would include:
1. Reinforcing Defenses: Substantial trade agreements and increased support for Taiwan's self-defense capabilities, encompassing advanced weaponry, cybersecurity enhancements, and technological cooperation, would bolster its ability to resist occupation.
2. Support for Resistance: In the event of an invasion, the US would ensure continued support for Taiwan's resistance. This support serves as both a deterrent to Chinese aggression and a means of buying time for a robust response. Elements of support may involve intelligence sharing, logistical assistance, and potentially limited military presence.
3. International Isolation: Following a Taiwan invasion, China would likely face international isolation. The US and its allies would strategically position themselves to exert economic and military pressure on China. This could involve coordinated sanctions, trade restrictions, and diplomatic isolation.
A critical aspect of the Taiwan issue is its impact on global high-tech manufacturing, particularly semiconductor production. Taiwan, through companies like Taiwan Semiconductor Manufacturing Company (TSMC), holds a dominant position in the semiconductor industry. Semiconductor chips are indispensable for modern electronics, serving civilian and military purposes alike.
A potential Chinese takeover of Taiwan would grant Beijing control over this critical industry, posing significant national security concerns for the United States. To mitigate this risk, the U.S. must adopt a multifaceted approach, including investing in domestic semiconductor manufacturing capabilities, strengthening international partnerships to diversify supply chains, and ensuring the resilience of critical industries.
In conclusion, the US-Taiwan relationship is at a critical juncture, necessitating a nuanced analysis of the evolving dynamics. While strategic ambiguity remains a cornerstone, a refined approach that incorporates specific tactical directives is crucial to safeguard regional stability and protect American interests. Taiwan's significance in the global supply chain, particularly in semiconductor manufacturing, adds another layer of complexity to this multifaceted issue, making it imperative for the United States to adopt a proactive and comprehensive strategy to navigate the challenges ahead.