By: Aleena T. Sabu, Research Analyst, GSDN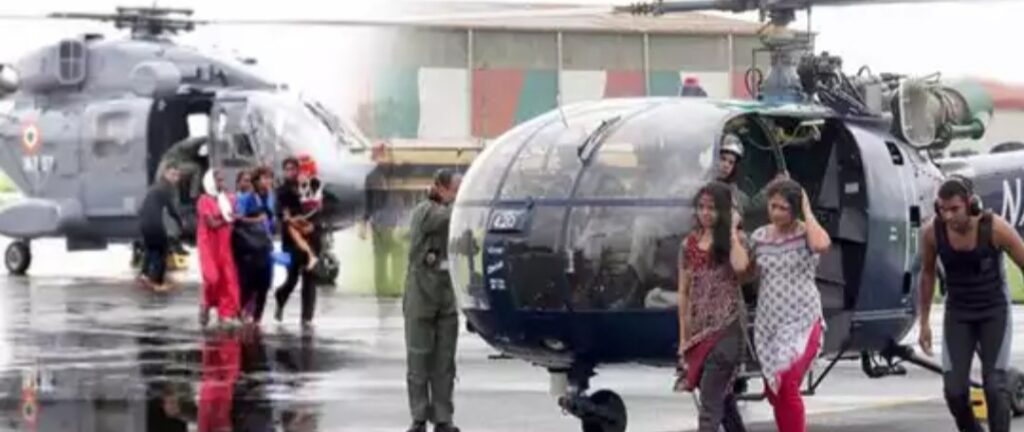 Myanmar has been hit hard by the Mocha cyclone on May 14, 2023, leaving many people dead and the toll is said to be on the rise. India has been in the forefront of ensuring a relief operation in place for the citizens of Myanmar. It has launched an operation named 'Operation Karuna' to send help and secure goods for the people of Myanmar. Four Indian navy ships arrived to provide supplies to the people, being the first responders to the cyclone-hit nation.
Destruction and Devastation
Myanmar on May 14, 2023 was hit by a cyclone named Mocha. It not only hit Myanmar but parts of Bangladesh too. The cyclone was recorded as a severe one by the Indian Metrological Department and a 'Super Cyclone' by the global weather website, Zoom Earth. The storm emerged in the Bay of Bengal and has been recorded as the strongest one in all seasons in the Bay of Bengal and the Arabian Sea since 1982 with a wind speed of 277 kmph. It was named 'Mocha' after a suggestion by Yemen.
According to Myanmar's state broadcaster MRTV, a woman died when a building collapsed in a neighbouring hamlet, and thirteen people were killed when a monastery collapsed in a village in Rathedaung district north of Sittwe, the capital of Rakhine.
The cyclone hit on the weekend, leaving behind a trail of destruction for the people in Myanmar. The Dhaka Tribune reports that 81 people have lost their lives in the cyclone while at least 46 people have died in Rakhine state village of Bu ma and nearby areas of Khaung Doke Kar, which were home to the persecuted Rohingya minority.
The head of Bu Ma village explains how there are hundreds of people missing and homes destroyed. The worst hit regions of Rakhine house the largest refugee camp in the world, the Cox's Bazaar.
Operation Karuna
India was the first responder to the cyclone hitting Myanmar. Indian navy ships, namely, Indian Naval Ship (INS) Shivalik, INS Kamorta and INS Savitri arrived at Yangon on May 18, 2023 with supplies. The fourth ship arrived on May 19, 2023 and carried food, clothes, tents, essential medicine, sanitary products etc. The supplies were immediately sent to the Rakhine and the worst hit regions.
As a country with principles of morality and ethics, India has always helped its neighbours through such crises and been at the forefront of such issues and leading the region. Even this time, too, India was the first responder to the cyclone hitting Myanmar. The Chief Minister of the Yangon region received the first shipment of Humanitarian Assistance and Disaster Relief (HADR) supplies from Indian Ambassador Vinay Kumar in Myanmar.
"More than 40 tonnes of HADR materials brought by INS Shivalik, INS Kamorta and INS Savitri included emergency food items, tents, portable generators, clothes, water pumps, medicines, tarpaulins, hygiene and sanitary items, wheel chairs, face masks etc," by the Indian Embassy in Myanmar. The fourth ship also bought more HADR materials as well as emergency materials.
External Affairs Minister S Jaishankar said, "India extends a hand of friendship to the people of Myanmar affected by Cyclone Mocha. Operation Karuna is underway. Three Indian Navy ships carrying relief equipment reached Yangon today. A fourth ship will be reaching tomorrow. The ships are carrying emergency food items, tents, essential medicines, water pumps, portable generators, clothes, sanitary and hygiene items, etc. India continues to be the first responder in the region,".
On May 18, 2023, in the presence of Bo Htay, Mayor of Yangon, Major General Zaw Hein, Yangon Regional Commander, Rear Admiral Naing Min Kyaw, Commander, Naval Training Command, Commodore Kyaw Lin Zaw, Deputy Commander, Central Naval Command, and Captain Thet Win Hlaing, Commander, No. 1 Fleet, Ambassador Shri Vinay Kumar presented the first shipment of HADR materials to Soe Thein, Chief Minister, Yangon
The fleet of four ships is moving a variety of necessities, including consumable and non-consumable goods. Along with 16 medical pallets, the cargo consists of 14 pallets of essential supplies, both food and non-edible. Notably, INS Gharial has a mobile medical facility that can house a fully functional hospital with a 120-bed capacity. The medical pallets include a variety of necessary goods, including intravenous fluids for common infections and ailments, first aid kits, antibiotics, antihistamines, and pain relievers.
The provisions cover a variety of food items, including instant noodles, rice, milk powder, potable water, ready-to-eat meals, high-energy biscuits, Multi Micronutrient Food, cooking oil, sugar, canned fish, canned meat, tea, salt, spices, and other accessories.
The non-food supplies being shipped include tarpaulins, tents, bleaching powder, disinfectant liquid, soaps, detergent powder, hygiene kits, dignity kits, crutches, wheelchairs, chainsaws, paper towels, shirts, pillows, sandals, fuel tanks, solar lamps, generators that are portable, water pumps, and various other necessary supplies.
India- Myanmar Ties
Historical, cultural, and strategic linkages define the complicated and multidimensional relationship between India and Myanmar. Since Myanmar's independence in 1948, the two nations have maintained diplomatic ties. India and Myanmar have cooperated in a number of areas throughout the years, including trade, security, energy, infrastructure development, and intercultural exchange.
Bilateral ties greatly benefit from economic collaboration. India is a big investor in industries like oil and gas, power, telecommunications, and agriculture, as well as one of Myanmar's main trading partners. Through projects like the Kaladan Multi-Modal Transit Transport Project and the India-Myanmar-Thailand Trilateral Highway, efforts have been made to improve connectivity between the two nations.
Another crucial component of the partnership is security cooperation. Both nations have collaborated to confront shared issues like transnational insurgency, drug trafficking, and arms smuggling. Border security and regional stability are made possible by cooperation between their respective armed forces and intelligence services.
Close links between the two countries have been cultivated through cultural and interpersonal exchanges. Due to historical ties between India and Buddhism, which is practised by a sizeable section of the population of Myanmar, pilgrimage travel between the two nations is very popular. The ties between the people of India and Myanmar have been further enhanced by educational and cultural interactions.
However, the partnership has also encountered difficulties and complexity, particularly because of internal political dynamics in Myanmar and issues with human rights. India has successfully engaged Myanmar while advancing democratic principles and human rights.
The "Act East" policy of India has recently placed a fresh emphasis on improving ties with Myanmar and other Southeast Asian nations. As part of India's broader regional engagement, this strategy aims to enhance economic connections, foster cultural ties, and increase strategic cooperation with Myanmar.
In general, India and Myanmar keep working to deepen their bilateral ties and explore new opportunities for collaboration while managing the changing regional dynamics and tackling common challenges in a way that is beneficial to both parties.
India's Foreign Policy and Crisis management
India's foreign policy, which involves aiding its neighbours, is founded on the ideas of regional cooperation, mutual advancement, and cultivating cordial ties with surrounding nations. The importance of a secure and prosperous neighbourhood to India's own security, economic development, and regional stability is acknowledged by this policy.
India takes a comprehensive approach to helping its neighbours and engages in numerous forms of collaboration. Giving developmental assistance, which includes funding, infrastructural projects, technical know-how, and capacity-building initiatives, is a crucial component. These programmes seek to aid the socio-economic development of neighbouring nations, encourage inclusive growth, and deal with issues like poverty, inadequate healthcare and education, and weak infrastructure.
India also actively participates in diplomatic initiatives to advance regional peace, stability, and conflict resolution. India works to promote a peaceful and cooperative regional environment by facilitating peaceful resolution to disputes and conflicts between neighbouring nations through dialogue, negotiations, and mediation.
Another essential element of India's strategy for helping its neighbours is trade and economic cooperation. India wants to improve commercial ties on a bilateral and regional level, encourage international investment, and advance regional economic integration. India actively participates in regional economic cooperation frameworks to promote economic growth and regional integration, such as the South Asian Free Trade Area (SAFTA) and the Bay of Bengal Initiative for Multi-Sectoral Technical and Economic Cooperation (BIMSTEC).
India places a strong emphasis on cultural diplomacy and people-to-people interactions to improve ties with its neighbours. This includes easing simpler travel and visa rules, cultural exchange programmes, educational scholarships, and tourism promotion. Through such projects, the people of India and its neighbours hope to deepen understanding, spread goodwill, and create enduring bonds.
India's assistance to its neighbours is not just motivated by self-interest; it is also motivated by a feeling of shared history, cultural affinities, and the conviction that regional fates are interwoven. India works to establish an environment that is favourable for group progress, security, and prosperity, benefiting both India and its neighbours, by fostering collaboration, development, and stability in its neighbourhood.