By: GSDN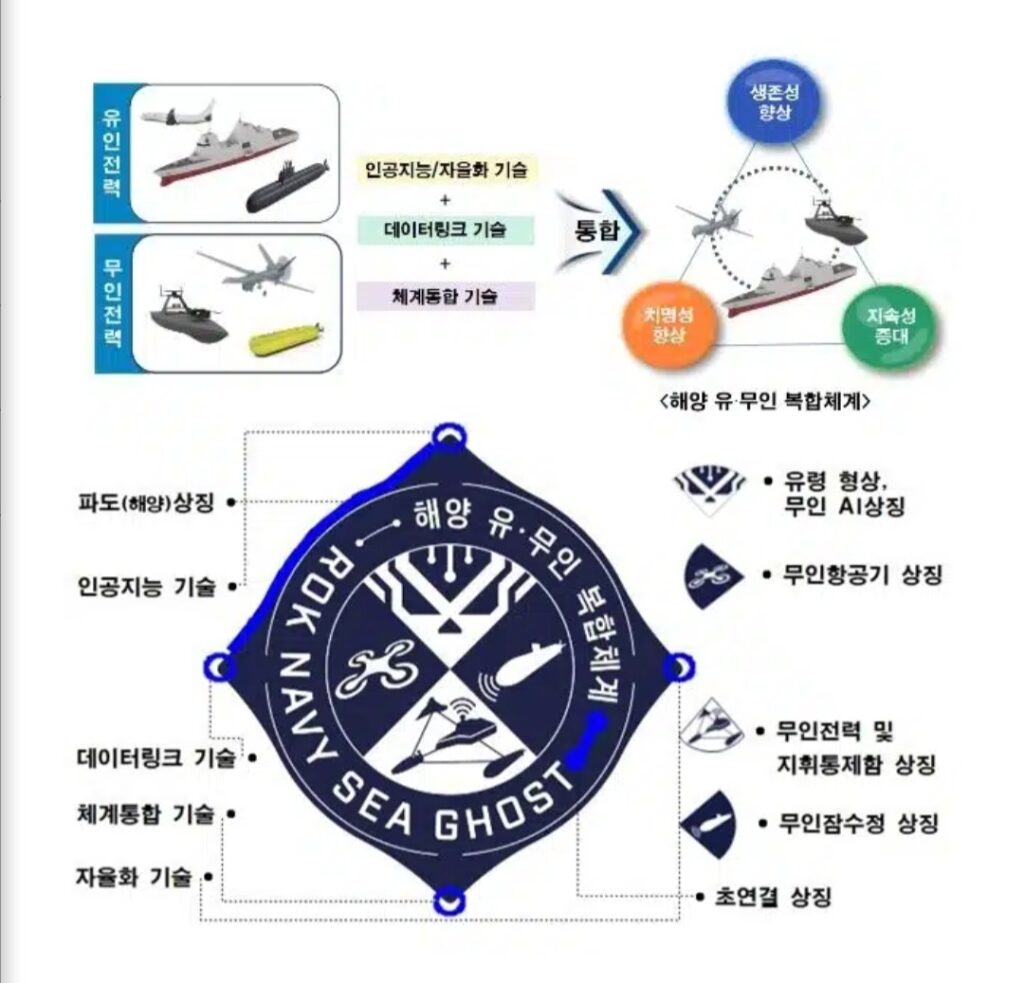 In one of its biggest announcements on its founding day, the Republic of Korea (ROK) Navy on its 77th Founding Day on November 11, 2022 announced the "Navy Sea Ghost Concept" which is in the Korean language and when translated in English it is the "Guardian Harmonized with Operating manned Systems and Technology based unmanned Systems".
This announcement by Admiral Lee Jong-ho the ROK Navy Chief of Naval Operations brought to fore once again that for any navy to be a potent force, it has to adopt and adapt the advancements in technology. Though stealth and secrecy has always been an important and integral part of any military operation, this concept is path breaking as perhaps for the first time any Navy has officially announced such a doctrine publicly.
During the unveiling of this doctrine Admiral Lee Jong-ho said "The Navy Sea Ghost concept revealed today, which is based on manned and unmanned Artificial Intelligence (AI) technology, is a game changer that will dominate the future battle space. We will devote our efforts and resources into (realising this vision) and creating a strong and powerful navy".
The prolonged Russia-Ukraine War has yet again proved that modern wars have to be short and swift. Sun Tzu a famous Chinese military strategist of the ancient times had remarked "If victory takes long, it blunts the military and grinds down its sharpness" is equally relevant in modern warfare as it was then.
The India-Pakistan War of 1971 which lasted a mere 14 days from December 03-16, 1971 is an apt and appropriate example of how short duration wars will result victory in assured victory as was evident with the Indian Army defeating the Pakistan Army leading to the creation of a new nation, Bangladesh.
To ensure that the modern wars don't get prolonged latest technology including the use of AI and unmanned systems have to be included in the military doctrines to maximise their efficacy and effectiveness.
The Navy Sea Ghost concept is a result of two years of research as part of the "National Defence Revolution 4.0" proposed by the Ministry of National Defence, ROK. It entails a lean mobile force involving seamless integration between the manned and unmanned systems. Also, part of this concept is to secure communications between its various assets so that the operations are not compromised at any stage.
This concept is of immense importance in the modern warfare and the global navies should take a note of this and formulate their own doctrines keeping in view their threat perceptions.
The ongoing Russia-Ukraine War and the heightened tensions in the Indo-Pacific region are a stark reminder that beefing up its own security is the only way to ensure peace in the region a nation is located in.