By: Santosh Sharma, GSDN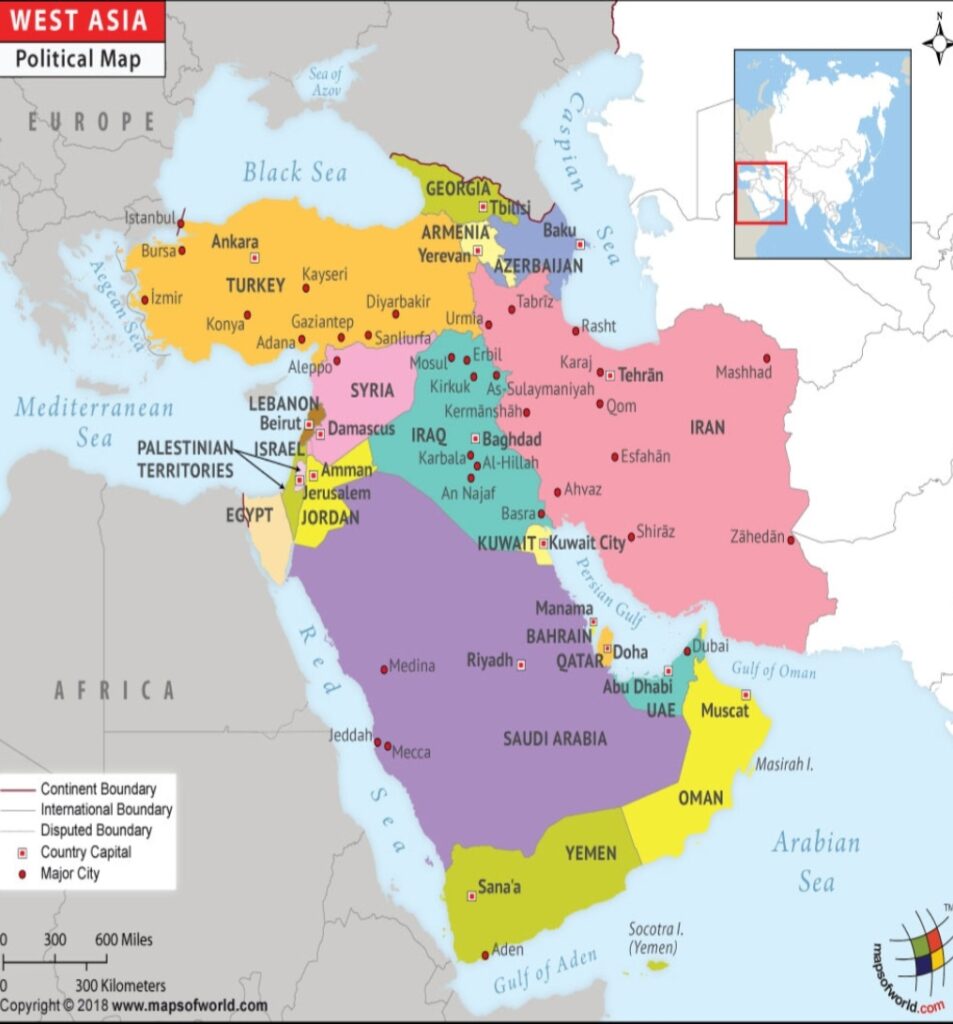 The Indian Foreign Minister Dr. S Jaishankar remarked "I am entitled to have my own side, I am entitled to weigh my own interests, make my own choices. And my choices will not be cynical and transactional but they will be a balance of my values and my interests." This statement truly reflecting presently in India's foreign policy especially with respect to Western Asia. Today's India's position in West Asia is according to its choice as we witnessed in Prime Minister Narendra Modi visit to West Asia.
Background
India's relation with West Asia can be traced back from Indus Valley Civilisation and be said that India's and West Asia have civilisational link. India's position in West Asia changed with span of time which can be seen phase wise like during cold war, after cold war and currently after the coming of Modi government from 2014.
During Cold War
During this period India supported Arab on Israel–Palestine issue and even criticised Israel. It supported Arab also because of Pakistan, as Pakistan continuously used Islamic connections to negate India's role. During the Cold War phase, India adopted the policy to not influence the regional dynamics in West Asia and to support Pan Arabism and Secular Arab state together with Palestine.
India's position Post-Cold War in West Asia
With the oil boom in West Asia and rise of pro–west Monarchs such as Saudi Arabia and also good relations with Arab countries like Egypt and Jordan, it helped India to shift or reconsider its West Asia policy which resulted in the start of diplomatic relations with Israel in 1992.
Look West Policy
India had to engage, three broad regions of the West Asia ie Gulf Cooperation Council (GCC) Region, Mashreq Region and Maghreb Region, in 2005 the Prime Minister of India Dr. Manmohan Singh announced Look West Policy and stated that West Asia is part of India's extended neighbourhood. India has also moved away with anti–Israel rhetoric and has enhanced its ties with Israel.
After coming of Modi Regime
India's Look West Policy get a new flavour under the Modi government, as the Modi government changed the India's West Asia policy from strategic restraint to strategic alignment, deflecting its position from traditional West Asia relations.
Current India's West Asia position is based on:
Economic Aspects
India's high dependence on West Asia for its energy need as India's approximately 70% of energy needs imported from West Asia and may be in future it increases as India is one of the fastest growing economies of the world.
India growing its trade with West Asia in other area away from energy as India trying to enhance free trade agreement as it has done with UAE that is India–UAE Comprehensive Economic Partnership Agreement (CEPA).
India's Diaspora and Remittances
Around 11 million Indians working in West Asia, which makes India's core agenda is stable relations with West Asia and stability in West Asia.
India is largest recipient of remittances, according to the World Bank, India's remittances soared to $100 billion of which approximately 30% share is from GCC.
Terrorism and Radicalism
India's relation with West Asia helps in counter terrorism and also in tackling radical ideology in India and ISIS.
West Asia can be gateway for India to Central Asia region as Afghanistan is unstable in the region and earlier too India had been trying to enter Central Asia through Afghanistan.
Defence Cooperation
West Asia is important defence partner for India to counter Chinese hegemony in Indian Ocean. India is growing its defence ties with UAE and Oman and conducting regular military exercise.
India's strategic access to Port Duqm in Arabian Sea for Military use and Logistical support which help India to expand its foot print in Indian Ocean Region.
I2U2 (India, Israel , the UAE and the USA)
I2U2 has been referred to as the "West Asian Quad" by the Ambassador of the UAE to India. It shows the importance of I2U2. It is like a boon for India because it gives more space to India to adopt independent Israel policy which is closer and more strategic. It also makes India's position strong in Gulf Countries and help in diverting India from oil based economic relations.
Challenges for India in west Asia.
Political instability is the major challenge in West Asia since the onset of Arab Spring in December 2010. Internal security issues in Syria, Iraq and Yemen have gone from bad to worse.
Terrorism and radicalism are also one of the major challenge and security threat in the region such as Hezbullah in Lebanon, Hamas in Palestine, ISIS in Syria and Iraq.
Israel is also one of the weakest links in West Asia because of Israel–Palestine and Israel– Iran conflicts.
India's deepening ties with Israel in recent years also not gone well with some West Asian countries like Iran and Turkey who have started playing the China and Pakistan card.
Increasing influence of China in West Asia like 25 years deal between Iran and China, the infrastructure projects of China in West Asia are also major challenges for India.
Way Ahead
As I2U2 is a win win proposition for all countries, India needs to play more active role in West Asia to keep balance with all major power.
India has to be more active in West Asia to counter the hegemony and active role that China in playing in West Asia as China.
India has to actively counter the Pakistan narrative especially in OIC, which pushes OIC for unnecessary comments on Kashmir and internal issue of India.
After coming of Taliban in Afghanistan, North–South Transport Corridor and Bandar Abbas Port development down tracked, India has to assure all stakeholders specially Iran that it is still interested in this corridor.
India has to more focussed or can say must shift aggressively from oil-based trade relations to wide interests like health, science and technology, infrastructure, maritime security etc.
India with the help of its soft power and cultural ties can play a major role in the peace and stability of West Asia.