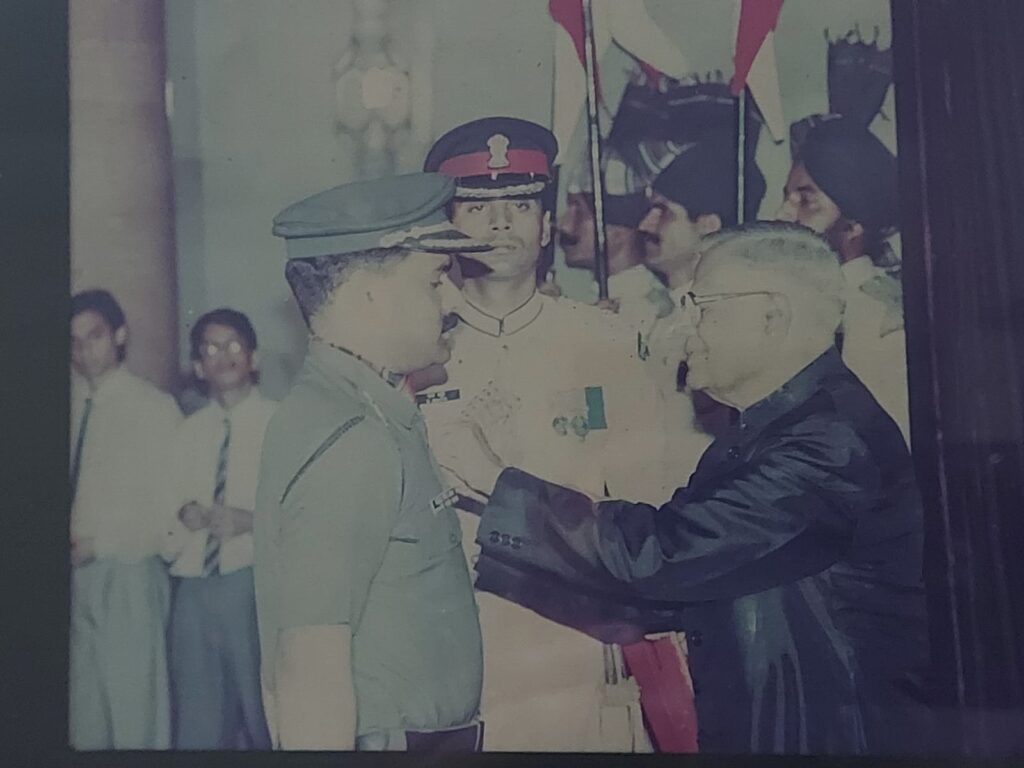 Ernest Hemingway quote "Courage is grace under pressure" fits Colonel Kishore Geer Bava, Shaurya Chakra who performed beyond the call of duty under inhospitable terrain and inclement weather to fulfil the mission that he had been tasked to do.
Bava was born on July 17, 1960 in Kamlapur which is in district Gulbarga of the Indian state of Karnataka to Gulab Geer and Premila. His father was a teacher and mother a home maker.
Bava did his class 12th from SB College, Gulbarga. He then went on to do his civil engineering from Basveshwar Engineering College, Bagalkote. After completing his engineering, he worked as a lecturer in an Engineering College in Latur, Maharashtra for a year.
Bava then join the Indian Military Academy, Dehradun in 1985 and in 1986 was commissioned as an Officer in the Bombay Sappers of the Corps of Engineers of the Indian Army.
As a young captain, Bava in early 1990, was posted as the Officer-in-Charge of 333 Platoon which was part of 53 Road Construction Company (RCC) in the Project Beacon of the Border Roads Organisation (BRO) of the Indian Army in the Kashmir Valley. He was entrusted with the work of maintenance, improvement and strengthening of the strategically important National Highway IA Srinagar- Baramulla-Uri Road.
Militancy had erupted in the Kashmir Valley in 1990 and there was mayhem all around with immense death and destruction taking place.
In the sensitive area of 53 RCC, the militants were highly active. It was difficult to motivate and put the men and machinery on the road without problems. The magnitude of the problems was further accentuated as the militants started attacking the BRO personnel at their camp sites and during moves in vehicles/ convoys.
The residual moral of the BRO personal was shattered after the organisation lost a few lives at the hands of the militants in the area. Under those circumstances and analysing the significance of his mission, Captain Bava meticulously planned, reorganized and mobilised his resources skilfully amidst heavy odds in trying conditions unmindful of his own safety and comfort. He always remained with his men, despite the fact that he escaped a few attacks on his life by the militants as they perceived him as an obstacle in the furtherance of their nefarious designs.
In July 1990, Captain KG Bava was entrusted with the additional task of construction of the Army Aviation base in Sharifabad near Srinagar, a task of operational significance which was to be completed by November 1990. He took up the challenge and organised his men and material and proceeded with professional competence and dogged determination to execute the task on schedule despite hostile environment in which he and his men were deployed without any security cover.
On October 20, 1990 Captain KG Bava was caught in a dreaded ambush on Jammu- Kashmir bypass in the evening while he was returning with spare parts for his Marshall plant. The occupants of the vehicles of the convoy were panic stricken. Even after witnessing numerous bullets hitting his vehicle, Captain KG Bava remained calm and composed and without any further loss of time he managed to disengage his convoy skilfully.
Inspired by his personal example, resolute courage, dogged determination and devotion to duty, his subordinates got motivated to work courageously against heavy odds and accomplish the operational task within a record time. The call of duty and service to the motherland were the prime motivating factors for Capt KG Bava to work round the clock as the operational task given was of immense national importance
Captain KG Bava, thus, displayed outstanding and meritorious capabilities of man management, technical skill, professional competence and great valour.
For this talent and professional act under tough and trying circumstances, Captain KG Bava was awarded with Shaurya Chakra, which is India's third highest gallantry award during peacetime.
The Army Aviation base constructed by Captain (later Colonel) KG Bava, SC in Sharifabad would later go on to play an important role in curbing terrorism in the Kashmir Valley.
Colonel KG Bava, Shaurya Chakra retired from the Indian Army in 2018 and is settled in Pune and does social service in the benefit of humanity.
Our salute and respect to Col KG Bava, SC who has served India with immense dedication and devotion.
Mark Hoover rightly quipped "If you have the courage to begin, you have the courage succeed".
About the Author
Lt Col JS Sodhi retired from the Corps of Engineers of the Indian Army and is an alumnus of NDA, Khadakwasla and IIT Kanpur. He is a M.Tech in Structures has also done MBA and LL.B and is a prolific writer and a public speaker. He features in the World Book of Records, London and the India Book of Records for his media contributions. He Tweets at @JassiSodhi24. The views expressed are personal. 
.