By: Khushbu Ahlawat, Research Analyst, GSDN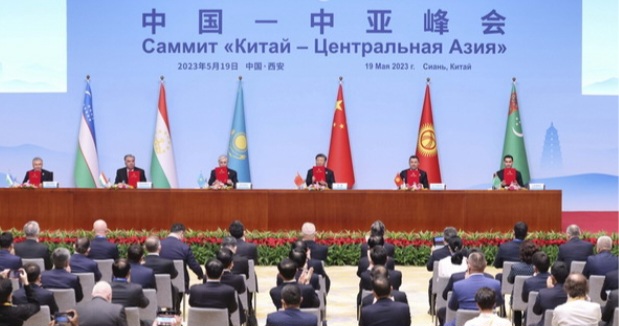 Chinese leader Xi Jinping and the leaders of Central Asian countries (Kazakhstan, Kyrgyzstan, Tajikistan, Turkmenistan, and Uzbekistan) met in person for the first time in Xi'an, China. This meeting was held on May 19, 2023 and was a part of the China-Central Asia Summit, which has occurred virtually since 2020. Xi'an, historically known as Chang'an, is an essential city in Shaanxi Province and marks the eastern end of the ancient Silk Road. The summit aimed to strengthen the relationship between China and Central Asia. The leaders discussed various issues and areas of cooperation. They emphasized the importance of trust and support among the countries, especially concerning sovereignty, independence, and long-term development. They also highlighted the need for mutual economic development, supported by China's Belt and Road Initiative. The leaders discussed connectivity, energy cooperation, green innovation, and regional peace. They aimed to build a closer community between China and Central Asia for the benefit of their people.
After the summit, the leaders released a joint statement called the China-Central Asia Xi'an Declaration, which outlined their shared vision for stronger ties. The declaration covered many areas of cooperation, including economics, trade, energy, climate change, and cultural links.
At the Summit, global leaders discussed various issues, including Russia's role and support for Ukraine. While Russia's influence in Central Asia is significant, China's influence is also growing. References to "national independence, sovereignty, and territorial integrity" in the declaration were crucial for all the Central Asian countries, and it was not directly aimed at Russia.
The five countries of Central Asia (Kazakhstan, Kyrgyz Republic, Tajikistan, Turkmenistan, and Uzbekistan) will strengthen people-to-people exchanges in various areas such as sports, archaeology, tourism, medicine, and healthcare. They will focus on the Year of Culture and Arts success for the China and Central Asian Countries, establish culture centers in each other's countries, promote mutual visits, encourage youth exchanges, and implement the "Cultural Silk Road" program. China will continue to offer government scholarships to young students from Central Asian countries, establish more Luban Workshops and traditional medicine centers in Central Asia, and assist in developing highly skilled individuals.
The five countries are committed to fighting against terrorism, separatism, extremism, drug trafficking, and organized crimes. They will strengthen cooperation in bio-security, cyber-security, and disaster relief areas. They will also support the Afghan people in maintaining security, achieving stability, and rebuilding their country. Together, they aim to create a peaceful Central Asia without conflicts.
The five countries of Central Asia will follow the rules and principles of the United Nations Charter. They will strongly support working together with multiple nations and upholding international laws and norms that govern how countries relate to each other. They aim to ensure fairness and justice in global affairs and make the international order and system of global governance fairer and more equal. All sides have shown their support and readiness to implement initiatives for global development, global security, and the progress of human civilization, recognizing their importance for world peace and development.
China's Push for Global Leadership
China is actively seeking global leadership, and the summit in Central Asia is a significant step toward that goal. It occurs alongside the G7 meeting and aims to enhance China's regional influence. This summit holds excellent importance for Beijing.
Central Asia is strategically important for China's ambitious Belt and Road Initiative, a massive project spearheaded by President Xi Jinping. China is expected to focus on securing agreements for major infrastructure projects during the summit, such as constructing a railway line connecting China, Kyrgyzstan, and Uzbekistan worth $6 billion and expanding the gas pipeline linking Central Asia to China. These efforts reflect China's intensified push to increase its global leadership and expand its economic and geopolitical influence.
Trade and Investment
China plans to enhance trade and investment with Central Asia by upgrading bilateral investment agreements and increasing cross-border freight volume. Chinese-funded businesses in Central Asia will be encouraged to create more jobs, build warehouses, and launch a special train service to promote tourism. To support Central Asian development, China will provide 26 billion yuan ($3.8 billion) in financing support and grants. Two-way trade between China and Central Asia reached a record $70 billion last year, with Kazakhstan leading at $31 billion. China aims to deepen its regional ties for food and energy security.
China intends to accelerate the construction of Line D of the China-Central Asia natural gas pipeline. It also calls for increased oil and gas trade, development of energy cooperation, including new energy sources, and peaceful use of nuclear energy. In the long term, China supports the construction of a cross-Caspian Sea international transport corridor and strengthening transport hubs for China-Europe freight train services.
During this summit, the five countries of Central Asia officially launched the China-Central Asia Summit Mechanism. They have decided that China and Central Asian countries will take turns hosting the summit every two years. The next summit will be held in Kazakhstan in 2025. The countries will further develop this mechanism and establish a permanent office in China. They will focus on transportation, trade, investment, industry, agriculture, energy, customs, and people-to-people exchanges. They are committed to taking solid and practical actions to promote comprehensive and deep cooperation among the six countries. President Xi expressed his satisfaction with the progress made during the summit, considering it a positive beginning for cooperation. He believes that with continued collaboration and determination, China's relations with Central Asian countries will advance steadily, overcoming challenges like a ship navigating rough seas. This cooperation will bring new energy and vitality to the development and revitalization of all six countries and contribute to peace and stability in the region.
What's driving China's stepped-up engagement with Central Asian states?
Several factors drive China's increased engagement with Central Asian states. Firstly, hosting the summit in Xian, which holds historical significance as the starting point of the ancient Silk Road, allows China to highlight its deep historical connections with the region. China aims to expand regional connectivity and enhance economic ties with Central Asia.
Additionally, China seeks to strengthen its role in security affairs in Central Asia. President Xi Jinping pledged support for enhancing the region's law enforcement and defense capabilities, aligning with China's Global Security Initiative. This move positions China to play a more direct role in security and economic matters, especially with Russia facing limitations due to its involvement in Ukraine.
Furthermore, with the United States reducing its presence in the region after withdrawing from Afghanistan, China sees an opportunity to increase its regional influence. Central Asian countries, concerned about Russian irredentism, are looking to China as an alternative security partner.
Overall, China's stepped-up engagement with Central Asian states reflects its ambition to expand its economic and geopolitical influence and fill the void left by other global powers.
What do Central Asian states want out of their relationship with China?
Central Asian states aim to pursue a "multi-vector" foreign policy that maintains good relations with Russia, China, and the West while avoiding taking sides in the extraordinary power competition. They seek a balanced approach that maximizes their connectivity to the outside world without becoming overly dependent on any single country.
In the past, Russia has dominated security and economic relationships with the region, but with its focus on Ukraine, its influence is shifting. China is gaining geopolitical prominence, but Central Asian countries want to ensure they don't become overly reliant on China either. They desire productive trade relationships with all their neighbors, respect for their sovereignty, and security assistance that allows for solid self-defense without getting entangled in great power rivalries.
Ultimately, Central Asian states strive for a Goldilocks situation, where they can maintain diverse trade ties, uphold their sovereignty, and receive security support that helps them defend themselves without becoming pawns in the competition between major powers.
Conclusion
So, China's support for Central Asia is a way to counter the accusations made by the United States about its coercive diplomacy. In simpler terms, China is trying to show that it has friendly and cooperative relationships with other countries in the region to balance the criticism it receives from the United States for its strong-arm tactics in international affairs. By strengthening ties with Central Asian countries, China aims to demonstrate its positive engagement and cooperation in the international arena.